Johnny Hunter 05-19-18 (Live @ Oxford Art Factory)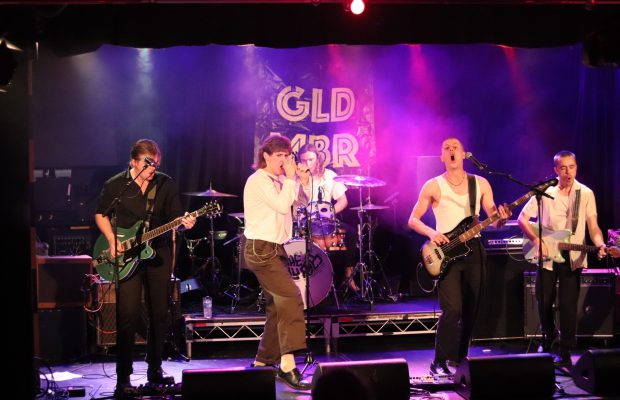 Johnny Hunter – Glam-pop anthems with plenty of hutzpah
Gig date: 19th May 2018
Venue: Oxford Art Factory, Sydney
Country of origin: Sydney, Australia
Members: Johnny, Ben, Xander, Gerry and Nick
Support or headline: Support for The Lulu Raes (Sydney)
Good crowd/bad crowd: I could tell that the crowd was more than ready to have an humongous night, with amazing bands and lets not forget booze..
Number of times seen band: 1
Crowd participation: Being the opening act is hard, but Johnny Hunter is not a band to mess with! They've got the stage presence down pat, the amazing vocals and the unique look. Here's what the band had to say about how they think their set went.. "We felt a massive vibe, there was a whole lot of dancing going on. A lot of our mates came to watch us AND they saw a whole lot of unfamiliar faces" so they must be doing something right if they had people who've never heard of their music, dancing during the whole set. Good on ya' boys.
Genre: Post-Punk Britpop
Rating: 8.5/10 guitars
My review:
Very unique look and sound
Some extremely good songs
I loved the way you performed "1995"
Set List:
Velocet
WANT
Endless Days (Video I took)
Dreams
Rex
1995
One of a Kind
Spacey Changer
Johnny Hunter is a band made up of 5 mates with killer talent. Finally deciding on a sound that bounces between 80's pop and melancholic chorus fascination. Johnny Hunter consolidates with what talent they have; to bring soul to the stage. Like nothing you've seen before.
With a low vocal range and belting tunes perfectly punctuated by anthemic chorus lines, it is all matched with thrashing guitars, rhythmic shimmer and a lot of bravado. Hands down an act to see live. Good luck with your gig at the The Landsdowne Hotel on the 25th of May, oh, and the rest of the supporting gigs with The Lulu Raes!!