Lord Dodongo 06-10-18 (Live @ The Record Crate)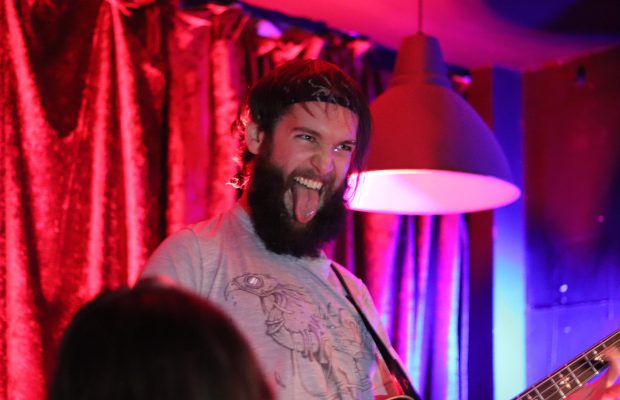 Lord Dodongo – welcome to my kingdom
Gig date: 10th June 2018
Venue: Record Crate, Glebe, Sydney, Australia
Country of origin: Brookvale, Sydney, Australia
Members: Harry, James, Gab, Josh and Jessamyn
Support or headline: Headline
Good crowd/bad crowd: Crowd was absolutely mental. I swear I saw a few people that jumped way too high in the mosh pit and hit their head and hand on the roof lights. Sold out. Packed and ready!
Number of times seen band: 1
Crowd participation: When James stood up on the amps at the back of the stage everybody started screaming with excitement not only because of how rock 'n' Roll it looked and was, but how dangerous it could have been if he fell, which thankfully did NOT happen.  Everyone in the crowd was having way too much fun and I could tell that they didn't want the concert to finish.
Genre: Psychedelic Noise Rock
Rating: 8.5/10 guitars
My review:
Great songs
James was being a daredevil and climbing up onto the amps, sticking his tongue out for the camera, doing the classic rock moves with the guitar.
Josh and Gab are such amazing singers
Jessamyn seemed to be very quiet but give her a mic to hold and a guitar and she'll shred the mic down the strings of the guitar!! Wow, what a sight to see, you absolute ROCK CHICK!!!
Set List:
Intro
Deep Water
Black Snake
Eulogy to a wet rock
White Wolf
Yellow Dream
Red Swine
Lord Dodongo are a five-piece outfit from Sydney's Northern Beaches experimenting with heavy psychedelic freak-out noise.  You could tell how much the audience loved their set, with all the clapping, screaming and full on mosh pit. I mean, who couldn't like Lord Dodongo? They're crazy rocker's who want their fans to be as crazy as them while rocking out to their stuff, well that's exactly what happened. J