Sam Shaber 04-26-14 (Live @ Living Arts Gallery)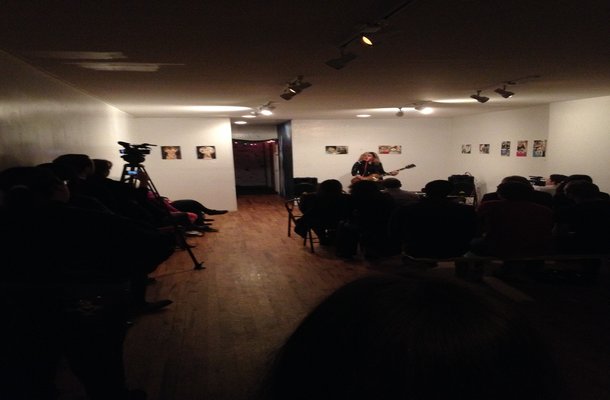 I was really excited when I saw that our good friend Sam Shaber was playing a solo gig for the first time in 6 years. My only experience of seeing her over the last few years was via her awesome band The Happy Problem.
While waiting around for the final mix to be done for the album from her most recent project The Good People Of Planet Earth, she decided to play a solo show titled 13 which was to feature 13 songs from throughout her solo & band career.
The show was highly enjoyable as besides hearing some of my favorites from her days with The Happy Problem, it was nice to hear songs from her other projects that I never heard before.
Some of my favorite moments included the random soundcheck calls which I found quite funny. I really loved the middle of the set when the tone became sad by hearing Rain And Sunshine followed by Hey Celebrity. What can I say, I love my sad songs so I guess I am a masochist in that way.
The twist from sad to upbeat with a performance of the Bob Marley classic 3 Little Birds followed up by Happy Happy Happy which sounded awesome. Harder Deeper Faster was a very interesting song which I completely understand why it would be played at strip clubs.
I thought the 13th & final scheduled song of the night Way To Joy was a nice way to end the set. I remember how much I loved seeing this song performed in the past as it is so upbeat & catchy.
While the theme of 13 was complete, the crowd could not get enough of Sam & cheered loudly for an encore. Since she is not one to disappoint her fans, she obliged with playing a fantastic version of Curvature. Everyone was very pleased even if the concept was shot out the window with #14!
Overall it was a flawless performance from Sam which I have always come to expect. On this night I will give her even more props for being on her game considering she was battling a perforated eardrum. Way to rock through the pain Sam!
Setlist:
Without You Again
Smithereens
Turn The Tide
Stupid Crying Song
Birth And Death
Prince Charming
Baby
Rain And Sunshine
Hey Celebrity
3 Little Birds
Happy Happy Happy
Harder Deeper Faster
Way To Joy
Curvature