The Dig 06-09-17 (Live @ The Well)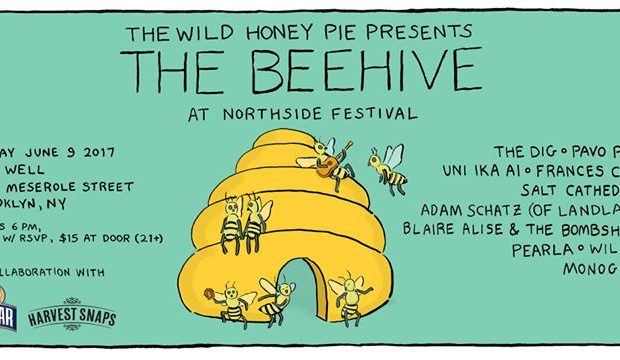 The first part of my game plan for the second night of the 2017 Northside Festival was to make sure nothing stopped me from being at The Well. Mission accomplished as I made it there for The Wild Honey Pie Presents The Beehive party to check out The Dig who happen to be one of my favorite bands ever.
When I first arrive, I had to resist the distraction temptation of joining in on the viewing party for Rupaul's Drag Race. I have never been to The Well before but anyplace hosting such a party has my vote. In fact I think I may join in on the party when season 10 rolls around but let me not digress!
I made my way upstairs where the stage was setup, yet another rooftop setting but this one was really awesome! They had all kinds of fun things like smoke machines & bubbles that were coming from an undisclosed location along with colorful lighting & a giant tent. The space itself was pretty spacious.
As one would expect at a show featuring The Dig, the place was packed. It did not hurt that this awesome show was free & who doesn't love a free show in Brooklyn!
The Dig's set was awesome like I knew it would be from all the times I have seen them in the past. They mostly played tracks from their most recent album Blood Shot Tokyo which dropped this past February. Some of the cuts played included Jet Black Hair and Simple Love, both which sounded as good live as their studio versions.
The crowd was super into everything happening & the band responded in kind by being really interactive with them throughout the set. I was glad they played I Already Forgot Everything You Said off their Midnight Flowers album. Admittedly I was sad they did not play another song from that album as it will always be my favorite album of theirs. However I understand the dynamics of having to push the newer material out there which by the way is really good!
Overall I knew that coming to The Well would lead to an amazing night as The Dig has always delivered such experiences for me & this night was no exception!
Check out The Dig's official website by clicking here. While you are at it, give them a like on Facebook by clicking here & a follow on Twitter by clicking here.