Ashley J – Unbreakable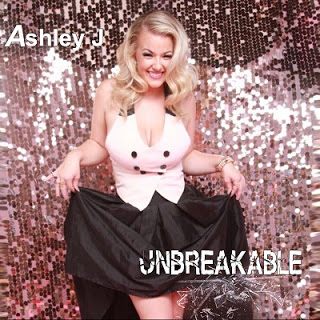 I recently checked out the latest single from Orlando native female singer Ashley J, entitled Unbreakable. I would say this artist as a whole possesses advanced to elite vocal skills. Ashley herself commands an advanced to elite singing and songwriting ability.  You will find a musical personality that is hooky yet poppy and quite simply – takes no prisoners. Timing is spot on within this single. Vocals from Ashley are at times powerful and pretty much flawless. The strongest aspect of the production is the engaging feel you get from Ashley.
The music: possesses straight forward contemporary pop with an edgy aftertaste. All in all great music to get your head wrapped around. Very uplifting, invigorating and therapeutic music and lyrical content.
The song: Simply put – music with an upbeat attitude like the title implies with thought provoking lyrical content rich in topics like love, life and empowering along the way. I kept waiting for some weakness – I eventually gave up on that.
The vibe: Overall very upbeat, powerful and at times joyful single with an amazing message that so many people deserve to listen and embrace. The single does a good job at capturing all this. Simply put – very much like life itself this single personifies life experience, especially from a feminine perspective. Trust me when I say this stuff can't be faked.
The production: is professional grade from start to finish. There's not many songs you can listen to time and time again. Production quality is Industry Standard. The good: Solid recording quality. Solid production value. Entertaining music and solid song.
The bad: Nothing to report.
The ugly: Nothing to report.
The Bottom Line: Unbreakable – the latest single by Ashley J has everything: good chops, entertaining melodies and heartfelt vocals; but more importantly, a powerful message. I might add Ashley J is equally as impressive in a live setting after doing my initial research.
Check out the official website for a sneak preview of Unbreakable by clicking here. Give her a like on Facebook by clicking here & a follow on Twitter by clicking here.