Beauty In The Breakdown – On My Way To Die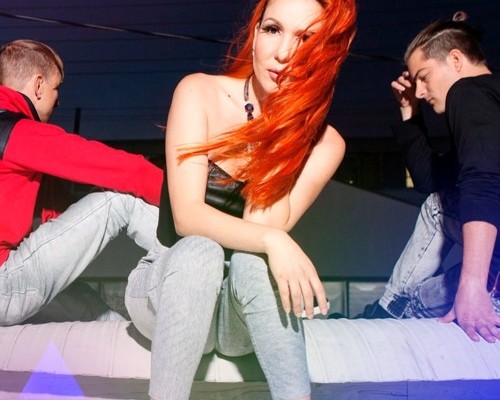 L.A.-based electro-rock/electro-pop foursome Beauty In The Breakdown is making a name for itself in the mainstream music realm, sharing the stage with Skrillex, Iggy Azalea, and Ke$ha and blazing an up-tempo electronic music trail that's as hot and bright as lead singer Chastity Ashley's flaming hair color.
Ashley is the touring percussionist for Duran Duran and she brings the sharp flair of that world-renowned band to her work in Beauty In The Breakdown.  Ashley is joined by Ian Alexander (guitar), Alexandria Reyes (bass), Tim "Sonix" Rouse (keyboards, synths), and Christmas Collazzo for Beauty In The Breakdown, crafting tuneful and high-energy EDM for the masses.  The band's debut EP Neon is slated for a May 20th release.
The bittersweet and pensive lead single On My Way To Die takes the band into different territory; it's an electronic-based lament and not an amped-up EMD tune that Beauty In The Breakdown is known for.  It displays another facet of the band, starting briefly with a sonically deceptive intro of just strummed acoustic guitar and symphonic strings pull before diving into a strong, but measured drum beat and alternating, fast blasts of synth noise.  As the melancholic symphonic strings return, Ashley sing-talks with a vivid finality the bleak lyrics that "There's nothing to give away / There's nothing left in yesterday / I'm on my way to die."
[soundcloud url="https://soundcloud.com/bitbmusic/on-my-way-to-die-by-beauty-in-the-breakdown" params="" width=" 100%" height="166″ iframe="true"/]
If you like On My Way To Die, make sure to give a like to Beauty In The Breakdown's Facebook page by clicking here & a follow on Twitter by clicking here.