California – Perfect World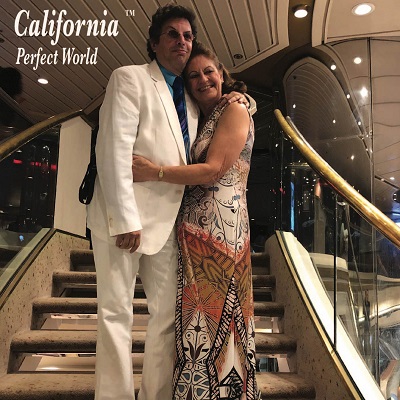 You can hear and describe California featuring Les Fradkin's new single "Perfect World" in multiple ways. One of those is as a promise kept. Fradkin is an original member of 70's pop rock group California who's resurrected the name for his songwriting. However, he breaks with the past by associating his name with the project. His musical and songwriting partner in this reconstituted California is longtime wife Loretta Pieper-Fradkin. Her influence is likely incalculable.
One gets the feeling listening to "Perfect World" that Fradkin always longed to write, record, and play top-notch power pop with broad audience appeal. He saw California as one of perhaps several opportunities fate presented him with though long-term success didn't pan out at the time. He plays and writes songs with his wife now and they sparkle with good feelings, melody, and entertaining changes, but there's something more. They burn with the inner light of someone with something to prove.
He does not have anything to prove, however. Fradkin is a decades-plus veteran musician and songwriter who has built an impressive list of credits over the years. He has seen the music industry's massive ups and downs as well as its mind-boggling transformations and, in 2022, is still creating with the verve and hunger of a musical artist in their 20's. It says a lot about his continued love affair with songwriting that the sparkle remains as bright as ever.
BANDCAMP: https://californiatm-featlesfradkin.bandcamp.com/track/perfect-world
The steady build of each verse into the chorus doesn't place a foot wrong. If you have heard fare such as this before, you may find that you prime yourself for certain chord changes as they come and smile when he delivers. Those changes often come with a slight flourish or twist, as well, that marks the passage as distinctive Les Fradkin territory.
"Perfect World" may seem, to hardened listeners, saccharine. A deeper listen, however, reveals more. It is a vulnerable piece that says as much about how the "speaker" in the song views themselves as they do their loved ones. It's another of those added layers you get when you're hearing material from a songwriter such as Fradkin.
He has maintained a consistent pace over the last half-century and continues working with the same single-minded love of someone who's never viewed making music as a "job". He loves it too much to call it that. "Perfect World" sums up all of the positive qualities sustaining Fradkin's music from the beginning and the peace of mind radiating from the performance will enchant many.
He has a seemingly effortless capacity for concocting winning hooks, an economical and musical manner for expressing time-worn sentiments, clear quality musicianship, and attention to detail. It is a laundry list of merits fueling this single. At a time in his life when many of his onetime contemporaries no longer harbor the inclination or wherewithal to continue, Les Fradkin is far from finished and still tackles each new project as if it's his last opportunity to create a classic. He may have accomplished that very feat with California feat. Les Fradkin's "Perfect World"