Carlos Washington – Little Bit Of Texas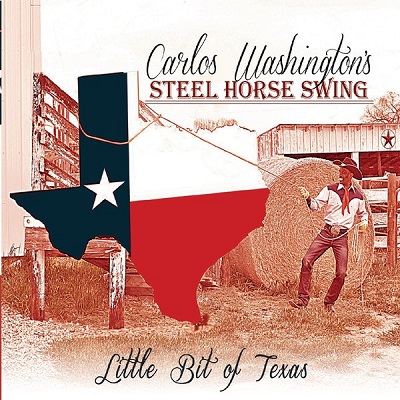 At its core, Carlos Washington's new single "Little Bit of Texas" is a fun, old school honky-tonker with everything required to become a staple in the modern country genre. Right from the moment that we hear the vibrant strumming of an acoustic guitar at the onset of the song, it's abundantly clear what we're in for in this three and a half minute country opus.
The title track of the new album from Carlos Washington's Steel Horse Swing, "Little Bit of Texas" is a track comprised of organic string play, pastoral vocal harmonies and elements of Americana and western music that have been largely overlooked by the bulk of establishment-supported country artists in the spotlight lately. There are no halfhearted attempts at alternative stylization here, nor are there are any moments in which Washington or his band sound even remotely impure in their collective aesthetical collaborations. If you came looking for the predictable fodder of an FM country song in this single, you're in for quite the surprise; in this hot track, mainstream artificial tones are replaced with a lively enthusiasm for the genre that just can't be taught (nor faked).
The most sterling attribute that this single has going for it is its danceable grooves. Even more than the other songs it sits beside on the album it takes its name from, "Little Bit of Texas" has a flexibility that would make everyone from swing addicts to square dancers and everyone in between want to get out onto the floor and shake what their mamas gave 'em. Washington's voice is sewn into the fabric of the instrumental melodies almost seamlessly at the start of the track, but by the time we get into the guts of the composition, his vocal is the most potent component of any given harmony.
There's more than just a beat making "Little Bit of Texas" the seductive treat for the senses it undeniably is; from the bones of the rhythm to the very layering of the melodicism at the top of the mix, this is a multidimensional work that wasn't dreamt up on a lazy afternoon.
In more ways than one, "Little Bit of Texas" reminds me of an upbeat yet simplified take on the music of George Jones. This isn't to suggest that Carlos Washington's Steel Horse Swing are derivative – nothing could be further from the truth – but to acknowledge just how much they have in common with the most important players in the storied history of country music. Theirs is a unique mixture of contemporary and classical themes that once made places like Colorado and Texas as important to the stalwarts of this genre as Tennessee or Georgia still are today, and if they can keep making it as well as they have here, they're in for quite a bit of success.
"Little Bit of Texas" doesn't bully us into falling in love with its swinging beats, nor the brilliant vocalist driving them home; it's simple, downhome country music that doesn't ask for anything other than some attention this May.
If you enjoyed "Little Bit of Texas", check out the official website for Carlos Washington by clicking here. Give him a like on Facebook by clicking here & a follow on Twitter by clicking here.