Corey Stapleton – The Pen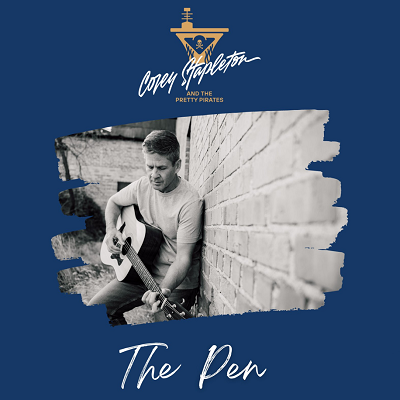 Accenting the gilded vocal harmonies with an electric edge that is strangely as pastoral as the acoustic parts are, James Mitchell's fretwork in the new single "The Pen" from Corey Stapleton is indeed the perfect yin to our singer's yang. When he's go the microphone in his hands, Stapleton is a hard man to ignore. He's got such an ease about him when he's crooning to us, and "The Pen" features him sounding perhaps even more in the zone than he has previously. His career is still very young – in its infancy, essentially – but with the kind of energy he's putting into this performance my gut tells me that we're going to be seeing and hearing a lot from him in the years.
The vocal dynamic between Stapleton and backup vocalist Kristen Rogers is absolutely stunning, and I think it would be incredible to hear them work together again. There's no shame in exploiting a viable melodic connection when it's rendering the groove as sensuous as it does in this performance, and personally, I don't see why these two shouldn't explore another track at another tempo. Chemistry is something that you can't fake into existence, and anyone who listens to the bevy of country collaborations that come through the American underground can attest to what I'm saying. When you've got something that works well, you run with it, and that's what we're getting in this one-of-a-kind exchange between two deeply gifted sets of pipes.
Acoustic guitarist Carl Miner and keyboardist Jimmy Nichols have an understated by highly critical harmony going on in this single that sets the tone for the lyrics well before Stapleton ever has the chance to start crooning them to us, and overall I don't know that any of the players in "The Pen" could ever be accused of slacking off in this mix. There's too much attention to detail here for there to be anything synthetic advancing the narrative – in all honesty, I would anticipate a live performance from this artist and his band sounding pretty similar, if not the same, as what we're listening to in this studio version of the same song. That's as unfiltered as it gets, and I'd like to see more of it in the country genre in general.
As far as the production quality is concerned, "The Pen" benefits from a top-notch ear for detail and some incredibly well-varnished arranging skills from behind the board, but I don't think this is the reason for the track's rapidly swelling success. Corey Stapleton is all heart in this performance, and to put anything between musician and muse would have been to deny us the true warmth of his artistry as it was always meant to be consumed. The devout country listeners out there who have been aching for something fresh on the left side of the dial are going to eat this man up, and with a little time, I could see him taking over the mainstream end of the business as well.
If you enjoyed The Pen, check out the official website for Corey Stapleton by clicking here. Click on these to follow his other socials: Instagram, Twitter & Youtube.