Corvaa – Zipper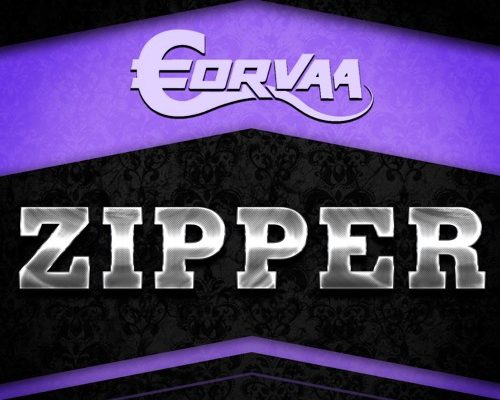 The new daring club hit Zipper by Corvaa has come out to bring the party to a new level! "The chameleon vocalist" has put the bar even higher with her new song, after the success of the EP she released back in December, 2013.
The deephouse beat, heavy bass line, poppy piano, mellifluous voice and naughty lyrics will surely make Zipper the DJ's favorite song this summer. The song itself brings up those amazing feelings of happiness, freedom and joy one feels when sipping on a colorful cocktail by the seaside, in the middle of a roaring party on the beach.
Corvaa is not afraid to be provocative with her lyrics. She sings about the raw irresponsible passion between two people at the club that's absolutely meaningless and physical, yet completely mesmerizing. Corvaa's not going to teach you how to behave – in her decadent and taboo-free world, everything is allowed and life needs to be enjoyed to its fullest!
Corvaa has proven her dedication to her work and never gave up on the dream her 12-year old self had – becoming a musician. No matter in what direction life steered her, she always got back in track, as music is the greatest guiding light for a passionate artist. Of course, a bit hardheadedness doesn't hurt either, as Corvaa says: "The one with staying power is the one with winning power."
"The chameleon vocalist" is originally from Piraeus, Greece, but she grew up in Long Island, New York, after she was adopted. Corvaa decided to start working on her musical career three years ago, when she began recording and directly uploading rough recordings of her voice.
She used no specialized equipment whatsoever, her phone being the only tool she had. That brave decision to jump in the unknown turned out to be right, as thousands of people responded to her natural performance.
Corvaa managed to record an EP within the year, receiving lots of positive reviews. However, her hobbies are not limited to music and she enjoys other forms of art as well – for example, photography and writing. Corvaa shares that her biggest influences include Timeflies, Robyn, Jojo, Armin van Buuren and Amy Lee.
Nowadays, Corvaa has found support in various radio stations (WKRB 90.3, Party 103, Party 105.3FM, Z88.9), night clubs (Harrah's Pool After Dark) and was appreciated by fellow musicians like DJ Sizzahandz from the Crooklyn Clan.
Her songs have been played in more than one hundred countries, and she was even featured on MTV's website. Corvaa has worked hard to be in this position – a successful twenty eight year old, living her dream.
The hit single In and Out of Love from her EP album has been played in multiple locations, all throughout the USA. That includes venues in New York (Pacha, Stage 48, LOVE, Highland Ballroom, Hudson Terrace, Slate, Tokya), Boston (Gem, Down Ultra Lounge), Pennsylvania (Waves, LIT), California (Heat Ultra Lounge), Rhode Island (Touch Lounge), Maryland (Naughty Goose), Florida (Vain Night Club, (Legends Live), New Jersey (Headliner) and more.
[soundcloud url="https://soundcloud.com/corvaa/zipper-corvaa" params="" width=" 100%" height="166″ iframe="true"/]
If you like Zipper, make sure to give Corvaa a like on Facebook by clicking here & a follow on Twitter by clicking here.