Dynamos – Shake, Rattle, and Roll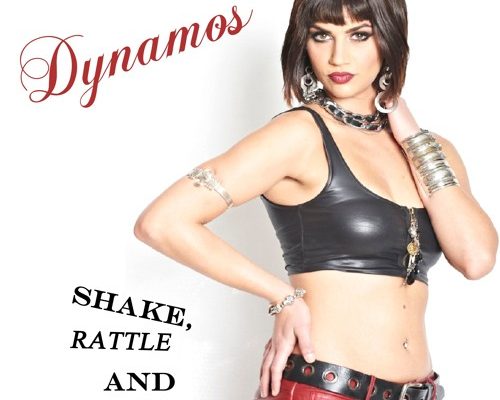 Shake, Rattle, and Roll, a single release from Los Angeles based five piece the Dynamos, is a vital reminder that rock music is far from a dead issue.  It's more than just the right chords, good lyrics, and a suggestive title. The Dynamos bring an ample amount of attitude and feel to bear on the performance and it results in a fiery outing from the first notes on.
The production, courtesy of Elliott Lawrence, gives the song an intensely physical and in your face edge without the instruments and sound ever veering into outright abrasiveness. He also shows a keen ear for how to best use lead singer Nadia Elmistikawy who, undoubtedly, emerges from this band as an epic vocal talent with peel the paint off the walls singing power. There's an immense amount of soul in what she brings to the table, as well, though there isn't a single point in this song where her vocals hit some sort of lull. She's in full flight throughout.
The flight isn't immediately apparent as the song starts off with a captivating introduction. It's clear from the first that the Dynamos are a band conscious of taking advantage of dynamic construction, letting the music simmer before unleashing themselves on listeners' in full. The electrifying interplay between guitarist Jacob Mayeda and Carlos Barrera have a coarse, bluesy texture but there's plenty of warmth and rock and roll bite flaming from their pickups, but they wouldn't be able to scale the heights they do unless they were held aloft by the superb rhythm section boasted by the Dynamos.
Drummer Ian Nakawaza and bassist Nick Schaadt distinguish themselves with a intense, flexible performance that gives the song an unique distinction in that it has a sturdy, yet responsible, foundation capable of adjusting to the song's evolution rather than following along in an exclusively straight line.
Novices hearing Nadia Elmistikawy for the first time will be blown away and those familiar with the band will be pleased to hear that she's continuing to realize the immense promise demonstrated on the band's earlier recordings. She gets over the song's dominant mood of desire with little trouble, but it's telling that she has a wide range of tools for doing so rather than relying solely on her singing muscle. Wild-eyed, white-knuckled passion isn't the only way of expressing desire and Elmistikawy shows a shrewd understanding of that from her entrance into this song onward.
Shake, Rattle, and Roll succeeds at the level it does thanks, in no small part, to her performance, but there's no question that this is a real band and they share equal footing in how they come off to listeners. It's equally sure that this is a guaranteed bring the house down live number and they will undoubtedly improve on its punch in a live setting. The Dynamos are connected to the living, breathing spirit of what it means to be a rock band and there's no way they aren't going to keep getting better and better over time.
[soundcloud url="https://soundcloud.com/dynamosmusic/shake-rattle-and-roll-1″ params="" width=" 100%" height="166″ iframe="true"/]
If you enjoyed Shake, Rattle, and Roll, check out the official website for the Dynamos by clicking here. Give them a like on Facebook by clicking here & a follow on Twitter by clicking here.