Francesca Beghe – Trust In Me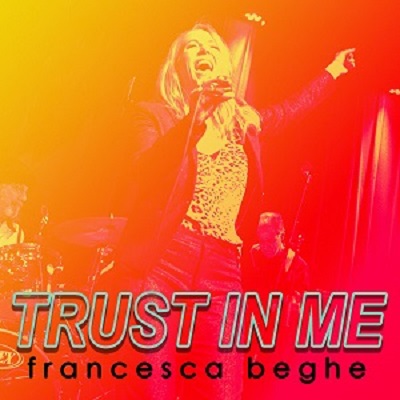 Francesca Beghe brings nothing but joy to listeners with her latest single "Trust In Me." Beghe cowrote the track alongside Charlie Midnight and Marc Swerksy and it was eventually recorded by Joe Cocker. "Trust In Me" was chosen to be on The Bodyguard soundtrack by Kevin Costner who is a die hard Cocker fan. The Bodyguard soundtrack is the best selling soundtrack in the world still. Beghe is bringing it back with her own signatures nearly 30 years since the release of the soundtrack. Beghe's rendition of "Trust In Me" is so warm and groovy you'll wonder if she was meant to sing the song all along.
Beghe is a New York based singer/songwriter who's career started in the Manhattan club scene in the 80's. A lost recording of "Trust In Me" scored Beghe a solo record deal, so it was only a matter of time before she approached the song again. "Trust In Me" is a joyous exploration of talent and the joy of music. It had been over a decade since Beghe performed a live show and over 20 years since performing with a live band. She returned to the stage to record Francesca Beghe Live and its hard to believe she ever stopped. Her band is made up of seven of Beghe's friends who happen to be a crop of remarkable musicians.
"Trust In Me" sounds like it was always meant for Beghe to sing it."Trust In Me" highlights Beghe's vocal range and power. Beghe sounds like she can sing this song in her sleep, that's how buttery her voice is. I appreciate that Beghe and her band celebrated and honored "Trust In Me" by performing their version of it. This song is on a best-selling album that is beloved by millions, yet Beghe's take is fresh and effortlessly revitalizes a song that never died. Beghe truly offers listeners a different rendition that is just as exciting and tantalizing. By using influences of Blues and Rock Beghe gives "Trust In Me" another life.
Beghe delivers an astounding powerhouse vocal performance that is truly mind blowing when you remember its a live album. It wasn't until I heard applause and Beghe chuckling at the end of the track, that I remembered that it was in fact live. You'd never it was live because of the unity Beghe and her band achieved. Beghe's voice is crystal clear and so is the band. This captures the raw emotions of "Trust In Me" along with the crisp melodies. There's a rawness to Beghe's performance, an intimacy, and an honest feeling that they are having the time of their lives onstage. Beghe said it best herself, "…These days I have no agenda. I just want to make music and share this beautiful thing." That exactly what she did with "Trust In Me."
"Trust In Me" dropped on March 4th as the leading single from the upcoming album Francesca Beghe Live. It's safe to say that, "Trust In Me" is only the  tip of the iceberg for Francesca Beghe Live. Whether you're discovering "Trust In Me" for the first time or are returning to it after a hiatus you will not be disappointed by Francesca Beghe's version. Don't miss it!