Grown Up Avenger Stuff – A.I.M. (All In Motion)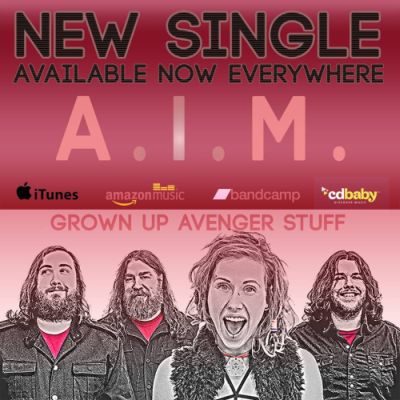 The members of Charlotte, North Carolina-based alternative rock band Grown Up Avenger Stuff face life's challenges with a never-say-die spirit that is reflected in their driving, powerful, and cathartic music.  They revel in a darker brand of indie rock crossed with brighter pop punk.
Grown Up Avenger Stuff is helmed by John Thomsen (guitar), the father of Hunter Thomsen (bass) and Tyler Thomsen (drums).  There's been a recent line-up change and previous powerhouse vocalist Deirdre Kroener has been replaced by the vibrant Ray Stern.
Known for their electrifying live shows, the band members try to translate that energy to record.  New single A.I.M. (All In Motion) succeeds in bringing both the sonic dynamics and the vocal nuance to the fore.  Stern sings in a crestfallen tone on more subdued verses that are still streaked with jags of distorted guitar and a stop 'n' start drum beat.
On the grinding chorus Stern at first deploringly cries, ""You're so overwhelmed", but then with more hope, she declares, "Just put the past behind you" against the gritty guitar unrest and kinetic drumwork.  Stay for the cool pop punk break near the end of the tune replete with a skipping drum beat and Stern's peppier, sing-song vocals.
[soundcloud url="https://soundcloud.com/grownupavengerstuff/all-in-motion-grown-up-avenger-stuff" params="" width=" 100%" height="166″ iframe="true"/]
If you enjoyed Grown Up Avenger Stuff's A.I.M. (All In Motion), check out their official website by clicking here, give them a like on Facebook by clicking here & a follow on Twitter by clicking here.