ILYAH – Habibi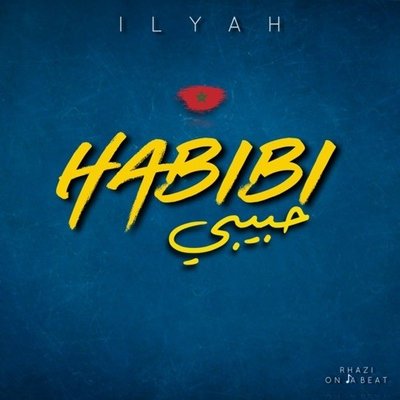 I am quite enthralled with ILYAH's latest single "Habibi" after a single listen. He hasn't been in the music world for long, but performs like a seasoned professional who enters the studio certain of what he wants to accomplish and how to do it. This isn't unheard of, but it is uncommon. It speaks to ILYAH's innate talents as a vocalist and musician – he exhibits a built in understanding of when to sing and when to back off and how to tailor his voice to the backing track rather than obscuring it. Some vocalists position their voices against the musical accompaniment and rely on the resulting tension to draw listeners in, but other vocalists take a different approach and shape their voice around the musical accompaniment.
The musical accompaniment is limited, yet wholly appropriate for the performance. The song relies musically on a smattering of synthesizers and electronic drumming to accompany ILYAH's vocal and the production renders those musical elements with outstanding clarity and an ear turned towards balance. The self-assured phrasing of ILYAH's vocal is obvious in each lyric for the track and the song's video conveys it as well – there's a clear level of commitment in the way he communicates each line that the camera captures for anyone paying attention.
The track never hangs on too long either. ILYAH and his collaborators have a good ear for understanding how long the best pop should run and he resists any self-indulgence. This, once again, isn't common with such a young performer, but his other singles make it clear that ILYAH is far from a run of the mill pop performer. "Miscommunication" is another outstanding single in his growing discography and, though it doesn't possess the same memorable chorus we hear during "Habibi", it has numerous other strengths distinguishing it from the pack.
The lyrics definitely deserve mention. There are a number of inventive rhymes throughout the course of the song far beyond the usual purview of a pop song and the message is certainly more complicated and adult than what we're accustomed to hearing with much more disposable pop efforts. Even the video for this song stands apart. ILYAH takes a completely different approach to promotional clips with this video as he is far less reliant on jump cuts than other videos and incorporates genuine narrative architecture into the clip rather than embracing the typical performance clip common to the genre.
"The Only One" is another powerful single. It is stronger than "Miscommunication", in some ways, thanks to its hook laden structure, but the chorus isn't all that marks this song as top notch. It has a much more sensual groove than the other singles, but it's never cheap or tacky, and ILYAH connects with the track in a way that's sure to make a deep impact on listeners. These singles are powerful reminders that there are still young performers coming onto the scene capable of inspiring modern audiences and we can expect more like this from ILYAH over the years to come.
If you enjoyed Habibi, check out the official website for ILYAH by clicking here. Give him a like on Facebook by clicking here & a follow on Twitter by clicking here.