Kanisha K – Oh Damn Yeah (Nashville Mix)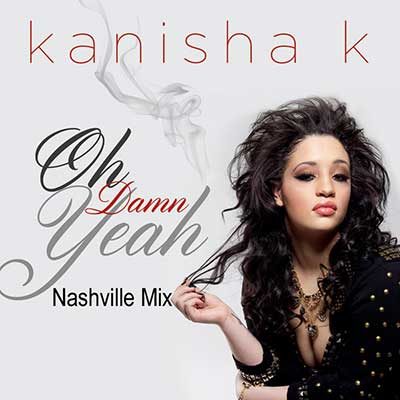 In 2014, Kanisha K had a banner year. Her single Bring Me Home  garnered strong airplay support, spending over 41 weeks on the charts and translating into tremendous success on the FMQB AC chart (peaked at #3,) Mediabase AC Chart (debuted at #29) and the Billboard AC Indicator chart where the song peaked at #22. In 2015 the dance version (remixed by Razor & Guido) entered the Billboard Dance/Club Play Songs chart and reached *47 after only four weeks. Kanisha is in good company on the most prestigious dance chart in the world, joining the likes of Beyonce, Gwen Stefani and Taylor Swift.
Jumping ahead to 2017, her latest single Oh Damn Yeah is about being the underdog, begging the question if she'd still be worth taking a chance on at her all-time lowest. And you just can't find that a hard topic to work with, so the rest must've been fun in the making of this radio-ready hit song. She's no new comer on the block now, who's proven she can hold her own worth the best female voices in the industry. If-only everyone had such talent, but then we'd be maxed out on yet another era of music, so maybe it's best to take them as they come in large or even small doses.
Kanisha will surprise anyone who thinks rock and country are dead, but they'll likely reckon with her pop factors, so that is a good lure on both ends, because it brings people from all around to the table to find there is a little something here for everyone who likes mainstream music. And it's not hard to appreciate how she walks the line between what is accessible and what is commercial for radio listeners. She goes above and beyond both calls of duty as a pop artist, but deserves the respect she earns from country and rock. This is no small task, as anyone out there knows, but she works it out with flying colors.
There's nothing to guess about this song, and the guitars are as blazing hot as her sultry voicings throughout it, opening with a few subtle chords and closing with a delicate and discrete "oh yeah." It's the middle where things go sky high and get your blood pumping in a way you can't argue with. It's just so good it's hard to debate anything about. She could use more songs by putting out LP's but they could also lose some impact that way. I'm with playing it her way because I'm already wanting to her next single and that says this one is impressive without going too far in giving it way to the unheard.
One thing's for sure, Kanisha K has been and will be heard either way, it's just a matter of taste when someone has her abilities. She might even be better than most of her peers, but there's a whole career lying ahead to prove that. To go the distance, you need to pace every step and handle them with care, and that in her plans, or it wouldn't be producing such fine results. The music matters most at the end of the day, then comes how it gets to the world. Kanisha K is acing all the elements with every single she releases, and Oh Damn Yeah is the latest proof of where hard work pays off.
[soundcloud url="https://soundcloud.com/kanisha-k/oh-damn-yeah-country-mix" params="" width=" 100%" height="166″ iframe="true"/]
If you enjoyed Oh Damn Yeah, check out the official website for Kanisha K by clicking here. Give her a like on Facebook by clicking here & a follow on Twitter by clicking here.