Makar – Zombies Have Rights Too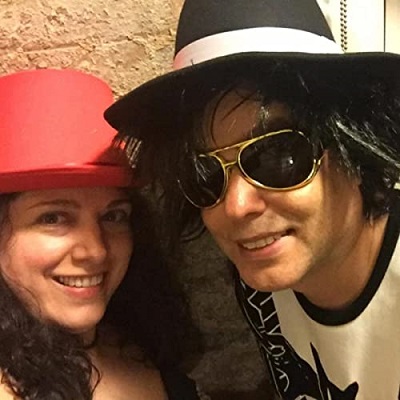 "Zombies Have Rights Too" is the new single from Makar. From the new album, Fancy Hercules, due to land Friday, November 19, the New York indie-rockers chill the scene, groove the night with this wildly creative perspective. A love song and a chance to contemplate it all, "Zombies Have Rights Too" is pure imagination and restless talent. Andrea DeAngelis and husband Mark Purnell combine the complexities of the keyboard with the galloping nature of percussion, add in some wholesome acoustic guitar and they have an answer to the intensity and brooding sound so often found in Halloween. It's a treat.
At times DeAngelis' vocals are mixed below the instrumentation – her voice affixes its way to the top when she sings the chorus (zombies have rights too). I found her to be wonderful – she has an instant rapport with the listener. I suppose she sounds somewhere at the crossroads of The Primitives' Tracy Tracy, St. Vincent, Cate Le Bon and Debbie Harry. Maybe it's because she's from New York, that semblances of the Big Apple seep over into the vibe, but when she sings, there's a sense of time standing still. I can just imagine this song being played live in a grungy club, and at the same time, being perfectly placed on stage at an art opening. There's realness and depth in her voice that was both unexpected and invigorating.
The backing music is just as intoxicating. Feeling its way through the genres of pop, indie rock and maybe even some folky-blues notes, as a listener I was whisked away into a world that felt very real. I don't think you get these same connections and tones if you were to only rely on computerized beats. The drums, coming in hotter after the song's bridge, channel a bit of a rowdy, almost worldly-jungle beat. The keys and the acoustic guitar, on the other hand, are refrained and lush. They are whimsical yet classy. The rhythm of the song is just the right subdued feeling you want (and crave) journeying your way on the subway or even a long road trip.
The music video takes the zombie needs literally, even showing a zombie brushing her teeth. I had a great laugh at the antics in the video. I think the storyline is perfect – but it got me thinking more about what else this song is trying to convey. I think Makar is all about the oddities and the fringe characters we come across in our lives. Maybe that person is you or you are close to a person that feels left behind or ostracized. I could be completely wrong and overthinking this all, but I liked that this song at least had me thinking. It's a bit sonically different than previous releases like "I Hate My Job" (2005), "The Monkey" (2005), "Funeral Genius" (2011), "Worth It" (2011) and "Three Times a Midnight", but in "Zombies Have Rights Too", Makar have found a new voice and even speak for the voiceless. A new day, a new dawn and a new way to kick back and feel the vibe.