Mark Newman – When I Aim My Gun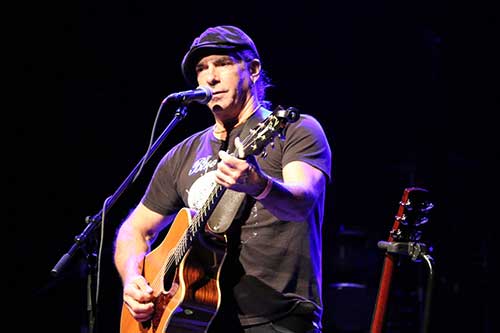 His time supporting iconic artists as diverse as Elvis Costello and John Oates has deepened Mark Newman's capabilities in ways that only working with top flight professionals will do and the fruits of those experiences come across in songs like When I Aim My Gun. It's a song that carries a definite message while still providing a powerful musical experience for listeners that's entertaining and serves the lyric and singing quite well.
The arrangement gives Newman a chance to work out his instrumental talents, but not in a showy way that distracts listeners. The production highlights the song's strengths in a memorable way and projects a warm sound that never sweetens the difficult message. When I Aim My Gun manifests a couple of different viewpoints lyrical and doesn't back away from the subject matter at all. New York City Mark Newman has every bit of the storytelling skill you'd expect from a great songwriter and he more than lives up to the reputation he's established over his career.
When I Aim My Gun could get up on its soapbox and take a high and mighty tone, but Newman doesn't opt for pandering to a certain segment of his potential audience. He takes a different approach instead where he provides a series of mini narratives portraying how or why someone thinks using a gun becomes a viable alternative to everything else.
The tone he takes with his vocal stresses the mood of the song is one of seeking to comprehend the things that drive people to this state rather than pointing fingers and finding fault. Some may hear the lyrics differently. It's a testament to Newman's talents as a songwriter that he leaves this an open-ended question for listeners, but others will hear these lyrics and detect where Newman's sympathies lie quite clearly. The chorus, in particular, is a key point as Newman attempts to speak from the voice of this point of view in a way any experienced music devotee will recognize from other songs.
The musical backing is awesome. Much of the song, instrumentally, focuses on Newman's guitar playing, but there's a nearly equal space in the song's sonic mix for organ and it contributes much to the song. Much of the musical attack is devoted to straight-forward accompaniment, but they find opportunities to shine later in the track and both weave some lead magic without ever sounding too ostentatious.
Mark Newman's long experience playing with great names in the music world surely shaped his talents, but there's little question listening to When I Aim My Gun that this is a performer with something to say and you can't teach that. This is as fine as modern blues rock with a tempered edge comes and will definitely win Mark Newman many new admirers. It's that good.