MkX – Ghost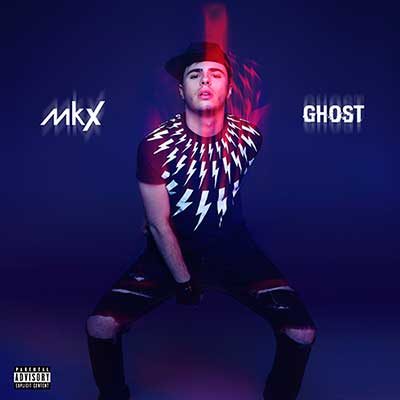 MkX is a young musical performer who, after serving a rewarding apprenticeship with some of the marquee acts in pop music today like Ariana Grande, recently lit out on his own and has experienced considerable success so far as a solo artist. His most recent single Ghost continues building on the impressive good fortune visited upon his single The Look and shows him increasingly capable of straddling the demands of satisfying the artist within alongside the clamoring ears of his growing fan base.
His blend of electronic, hip hop, trap hop, and pop goodness twisted with a smattering of R&B is an unique mix quite unlike anything else you'll hear on the modern pop scene and the latest single, like The Look before it, is packaged with sterling production that fully realizes its potential. MkX's powers are growing in every way – he sounds, with each new release, more confident as a performer, songwriter and, above all, a communicator.
The music is never an afterthought for MkX, but there's no question that the heart of the performance centers on his vocals and lyrics. Both are superb. The lessons he gleaned working alongside some of the music world's most talented professionals has informed his considerable natural talents and he has the conviction of someone with something to say and just the right technique for saying it.
The words, like the musical backing, waste no energy and there isn't a single extra word in place that shouldn't be there. MkX's vocal delivery elevates the fine lyrical content another notch up the pole thanks to his dramatic and emotive skills, but likewise thanks to the confidence with which he puts everything over for the audience.
Like any traditional singer, much of what distinguishes MkX boils down to presentation and his good sense to accentuate certain lines while relaxing on others makes this an even more gripping musical experience. This extends to the video as well – the short visual presentation for the song isn't merely existent as some added bonus but, instead, makes a memorable statement as well and helps further flesh out what the song means for him.
The musical arrangement is substantive and never serves as some empty vehicle for MkX to fill with his presence. Instead, the tangible and deep groove the instrumental attack conjures up, while reliant on electronic instruments, gives MkX a malleable musical backing to contrast with his voice and it comes together in a fashion that builds towards inevitable and satisfying crescendos.
Despite his youth, MkX has considerable presence and it comes across through this song in an effortless way. The electronica and organic instruments alike are affected some by post production work, but these additions never drain the life from the song and, instead, provide more atmospherics as intended.
Ghost is the next impressive step in a burgeoning career capable of going anywhere from this point forward – MkX obviously entered the studio to record this song certain of what he wanted to get across to listeners and does so with flying colors.
[soundcloud url="https://soundcloud.com/mkxmusic/ghost/s-T1Nkj" params="" width=" 100%" height="166″ iframe="true"/]
If you enjoyed Ghost, check out the official website for MkX by clicking here. Give him a follow on Instagram by clicking here.