Natalise & the Sunset Run – The Lucky Ones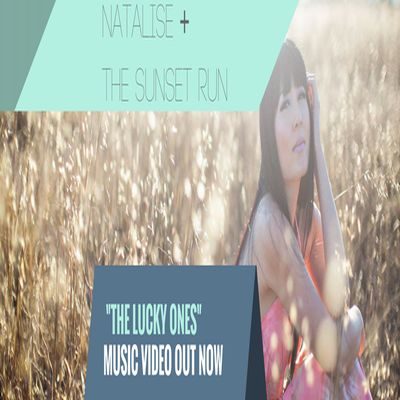 Natalise of the pop/alternative band Natalise + the Sunset Run is an accomplished and well-rounded artist who picked up piano-playing at just three years old, then dance at seven, and church choir at eight years of age.  She has graduated from the renowned San Francisco Conservatory of Music as a classically trained pianist and vocalist and also from Stanford University.
Natalise branched out from her classical roots when realized her gift for composing at the piano and she dove into creating melodic, heartfelt, and lyrically-meaningful music that is showcased on her latest record Glimpses of the Sun.
Lead single The Lucky Ones is a gently uplifting celebration of life rife with contemplative piano notes, deeply pulled orchestral strings, and Natalise's girlish, but thoughtful, pop-centric vocals.  She sweetly alights on lines like, "I remember how you used to smile / It could carry me a million miles / I say we're the lucky ones."
The video for The Lucky Ones, directed by Andrew James Abajian, emphasizes the meaning of Natalise's lyrics, at first showing Natalise on the California coastline, and then incorporating video footage of real people at happy moments of their lives – all centered on family and friendship and being grateful for each other and for their own lives.
If you enjoyed The Lucky Ones, make sure to check Natalise' official website by clicking here. Also give her a like on Facebook by clicking here, a follow on Instagram by clicking here & a follow on Twitter by clicking here.