Pistols At Dawn – The Truth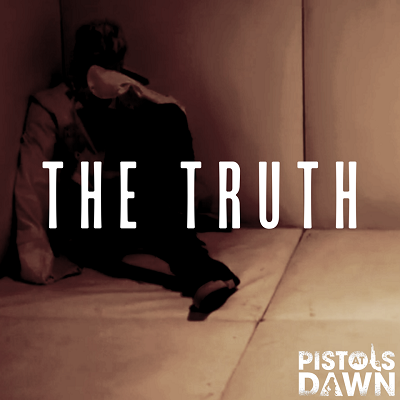 Every morning I wake up afraid, away from the light… Sometimes it's hard, but believe me – I'm here for the ride." With this opening line, Pistols At Dawn return to the stage with their latest offering through the single "The Truth," a song unafraid to confront the tricky and complicated intricacies that are our own emotions. Functioning as the lead single for PAD's upcoming album Ascension, there's a new status quo the song must first establish — it's coming out as the group's first "post-pandemic" release, and by doing so it has a certain expectation to live up to. Thankfully, fans will be more than happy with the emotionally gritty yet technically polished nature of "The Truth."
Fans already familiar with Pistols At Dawn should expect material similar to what they already know: explosive hooks, a bombastic full-band sound, and lyrics with a message. Those new to PAD should be glad to hear that "The Truth" is an accessible jumping-in point, and fans of heavier rock music are in for a treat! Contemporary comparisons for the band come in large varieties, but Pistols At Dawn is in good company being compared to acts such as A Day To Remember, Disturbed, and Papa Roach. There's something unique within their artistry that allows heavy hooks with melodic instrumentals, giving the fans arena-sized choruses to sing at the top of their lungs. Yes, there's also a fantastic breakdown within "The Truth" that'll undoubtedly become a live concert highlight.
For fans who prefer their singles with visual accompaniment, Pistols At Dawn don't disappoint! There's a well-made music video that dropped with the single's release, and it works complementary to the song with its storm-riddled visuals and asylum themes. The quality of the video's effects is pretty substantial, too, and the band has a knack for maintaining a captivating screen presence.
For fans of the rock genre, for those who might not know if they like rock music, and for anyone who needs to hear a track with a poignant message, "The Truth" is an impressive piece of music. There's nothing in it that makes it come off as something too ominous or outlandish, as some songs teetering on the rock/metal border are bound to do, and it instead positions itself as accessible of a single as possible. The accessibility might be in part due to the contributions made by Sylvia Massy (who fans might know from her work with Tool, System of a Down, and Johnny Cash).
There are a lot of spinning plates going on within Pistols At Dawn's wheelhouse right now, and the fact that they feel as cool and as confident as they ever have is something worth rewarding all on its own. "The Truth" is a single you only achieve every once in a while, and rolling it out to its premiere with an effortless attitude, even if there was nothing but insane effort behind the scenes, is a skill more people in the industry could set out to master. Ascension is on the horizon and will certainly blow fans away if it includes more songs in the same range as "The Truth." Until then, this single is enough to provoke even the most sing-shy fans to perform a little carpool karaoke.