Plum – Light Years, Dark Years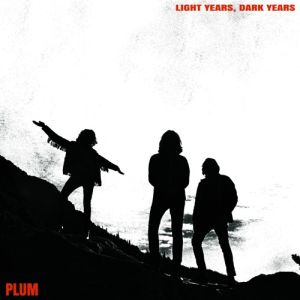 Get a Rocky Mountain high with Denver-based psychedelic rock 'n' roll band Plum's debut EP Light Years, Dark Years which comes out in early December.
Kyle Miller (vocals, lead guitar), Jake Supple (vocals, bass, drums), and Ty Baron (guitar, keyboards) ply a vintage psych-rock sound that emanates from the speakers with a heavy guitar fuzz and weighty drum pace. Fans of 1960s psychedelic rock (Hello Jim Morrison and The Doors!) and modern stoner rock will be pleased with the trippy, yet still direct vibes of Plum, especially on first cut Light Years, Dark Years.
It shambles forcefully through the door with an emphatic drum beat, crashing cymbals, shaken percussion, and fuzzed-up guitar riffs. Miller sings expressively from the start, declaring authoritatively "…the world is mine / when the sun don't shine." Bluesy, squelchy guitar licks run through the tune, as well as highly kinetic drum hits. There's even a quick bass guitar line breakdown after a cool sped-up section near the end of the song where Miller proclaims "…I'll go where I want to go / because I live in the shadows." Well, it's time to shine a light on Plum because the band's got the retro-tinted psychedelic rock style down pat.
[soundcloud url="https://soundcloud.com/plumofficial/light-years-dark-years" params="" width=" 100%" height="166″ iframe="true"/]
If you like what you hear, give them a like on their Facebook page!