Politburo – Barrington Way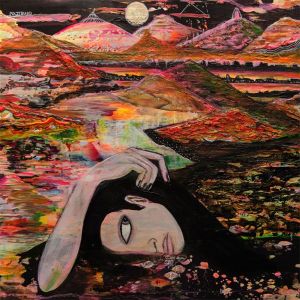 Mancunian psychedelic rock/folk band Politburo has been active since its formation in 1999 by founding members Nick Alexander (vocals, guitar, tambourine) and Dominic 'Dom' James (drums, percussion, keyboards).
Politburo's current incarnation includes John Loveguns (guitar), Phil Meredith (guitar, keyboards), Steven Joseph (bass), and invited guest Chloé Sancho (vocals). The band released its debut album Sally and Prinss Revisited in 2012, and is now set to deliver its sophomore effort, Barrington Way, August 19th on Leonard Skully Records.
Barrington Way is a psychedelic-vibed full-length that travels back in time to the 1960s era, conjuring up associations to various psych, folk, and rock acts, including legends like the Beatles.
This is especially true of lead single Barrington Way, a stylistically epic composition that channels the drifting dream state of late 60s music from the Beatles before it crystallizes into a more upbeat, pop-sounding number. Alexander asks near the start of the album-closing song, "Are you entertained / or are you disturbed?" and the answer is a resounding yes to the former.
Alexander's trippy, drawn out vocals are set against quick acoustic guitar strum, horn pulls, ticking cymbals, and an emphatic, but steady drum beat. He is joined by a variety of vocals lines on the chorus sections until a fuzzed up electric guitar line overtakes the mix. As the guitar distortion dies away, the tempo changes tremendously to a brisk pace of bongos hits, rapidly tapped cymbals, picked acoustic guitar lines, and a multitude of harmonious and clamoring vocals all exclaiming, "Show me the way!"
If you enjoy Barrington Way, make sure to check out Politburo's website by clicking here. Also give them a like on Facebook by clicking here & a follow on Twitter by clicking here.