Rebel ACA & French Monkey Wrench – African James Bond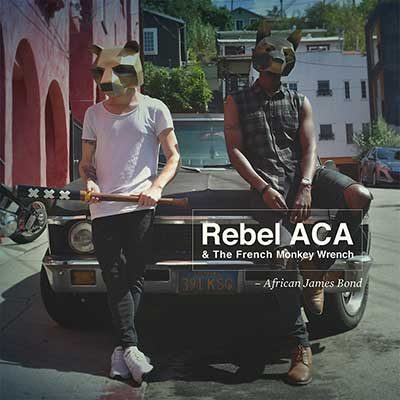 London-located, British and French hip-pop duo Rebel ACA & French Monkey Wrench takes a page from the Gorillaz' genre-bending playbook, mashing up hip-hop and indie pop on an infectious recent single, African James Bond.
The tune came out late last year and is part of the album Sunday's Cool, arriving in March via Buttercuts Records Limited.  It flows with the smooth groove of spy flick instrumentals – except here it's overlaid with the rolling rap of Rebel ACA.
Rebel ACA and French Monkey Wrench have been musical pals for over 15 years, as a manager and producer.  Working as this duo adds another layer to their friendship as they address the depression of a mutual buddy on African James Bond.
The song is a way to communicate with their friend and to tell him that, according to the optimistic lyrics, "You'll find your song / if you keep goin' on… Put the mic back on."
Against a shuffling, insistent drum beat, mellifluous acoustic guitar strings, and occasional winding sitar, Rebel ACA raps with a British accent on the verses, while French Monkey Wrench chimes in with a French inflection on the dreamier chorus sections.  African James Bond is a cool, uplifting crossover tune!
[soundcloud url="https://soundcloud.com/user-20948793/african-james-bond-1″ params="" width=" 100%" height="166″ iframe="true"/]
If you enjoyed African James Bond, check out Rebel ACA & French Money's page on Buttercut Records by clicking here. Give them a like on Facebook by clicking here & a follow on Twitter by clicking here.