Reina Mora – Trouble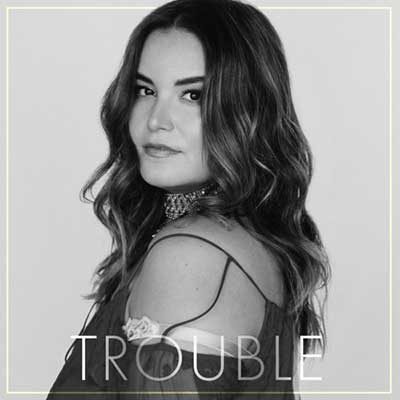 Trouble could scarcely begin Reina Mora's career any better. This lead off single from her first studio release finds her bringing her influences together under one tent, transmuting them through her own experience and talents, and thereby producing an uniquely individualistic yet familiar slice of musical art.
Trouble has commercial appeal, but it's far from pure pop – there's a brightly burning rock and roll flame at the core of the track. She's surrounded herself with a cadre of top flight accompanists who play to the song rather than attempting to glom off some of Mora's moment to shine. Shine she does. Trouble more than adequately conveys the confidence and sensuality behind so much of the tune and stands as a wonderfully complete first expression of identity from a singer, songwriter, and performer we'll undoubtedly be hearing more from in the years to come.
The song has a hell of a production job setting it apart from the work her contemporaries do. Mora sounds like a throwback of sorts, equal parts pop superstar in the making and backbreaker singer with ample soul to burn, and the way she possesses a song is reminiscent of the greatest singers, male and female alike.
It runs over four minutes long and Mora's voice is the dominant presence throughout the entirety of the tune without ever relegating her musical partners to the shadows. The accompaniment she receives on the tune really takes it into another realm. The same bluesy gravitas we hear in her voice is well matched by the cutting guitar work slicing through the mix. Everything has a gripping, immediate quality that frames her voice in the best possible way.
She makes every syllable matter and there's a level of attentiveness to her phrasing that goes far beyond the ken of average or inexperienced singers. Let's be honest – Reina Mora has likely been singing since she was a kid, so it isn't like she hasn't been developing this talent and emerges full born from the head of Minerva, but she has a talent level unlike many, if any, new singers emerging today and it's infused with an experienced air that even fewer can claim as their own.
One can say she isn't exactly plumbing into revolutionary subject matter with this song, communicating desire is about as standard as it gets, but she nails it with a language all her own that further marks this particular stretch of territory as hers alone. 2018 will, undoubtedly, see a number of notable debuts, but few will equal the passion, theatricality, and power of Reina Mora's first single and album.
She's making a mark straight out of the gate and, in an increasingly fragmented popular music world, we need these sort of transformational talents more than ever before. Reina Mora's Trouble causes the best kind of turmoil and leaves you wanting more.
[soundcloud url="https://soundcloud.com/reinamoramusic/02-trouble" params="" width=" 100%" height="166″ iframe="true"/]
If you enjoyed Trouble, check out the official website for Reina Mora by clicking here. Give her a like on Facebook by clicking here & a follow on Twitter by clicking here.