Roadcase Royale – Get Loud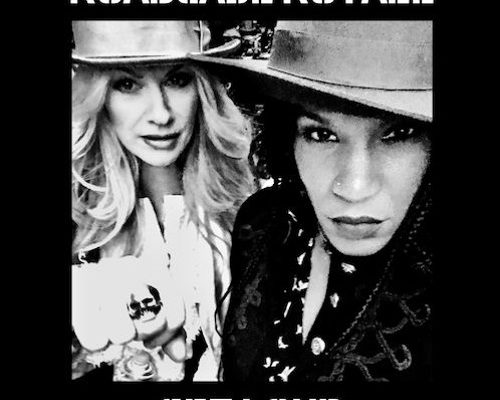 Roadcase Royale highlights the skills of legendary Heart guitarist and songwriter Nancy Wilson, former New Power Generation vocalist Liv Warfield, Dan Rothchild (bass), Ben Smith (drums), Ryan Waters (lead guitar), and Chris Joyner (keyboards). Excepting Waters and Warfield, the remaining lineup constitutes the bulk of Heart's current lineup and, thus, Wilson has a natural rapport with those musicians that provides the likely initial spark for their first single's success Get Loud.
The crackling chemistry produced by the guitar partnership of Waters and Wilson is another important reason for the success of Get Loud. The song has made a considerable impact since its initial January release – it debuted immediately following the Concert for America on January 20th and occupied a feature position at the Women March's on Austin, Texas. This is a song with wide melodic range and never overstays its welcome; these are the sort of songwriting qualities we associate with major talents like this and the song delivers in a big way.
It delivers in every facet of the performance. The vocals make a big impact from Warfield's first entrance on. She comes into the song not roaring like a lioness, but rather with smooth, nuanced delivery that wants to zero in on the importance behind every line. The only time in the song when she really turns on the afterburners and belts it out is during the build up to and actual chorus.
Another sterling quality separating her from less experienced singers is how she well she tailors her performance to what the musicians, particularly guitar and drums, are doing. This makes the song weightier without casting any sort of detrimental effect on how the track plays out. Warfield's performance is, easily, one of the song's highlights and she definitely performs as a fully fledged part of this band rather than someone attempting to dominate the show by herself. She's got great lyrics to really make this one fly.
Get Loud works for a lot of reasons, but one of the most important is because this song speaks directly to listener's aspirations rather than their reality. All too often we don't speak out and make our voices heard – in a multitude of ways. It's clear the lyrics look to motivate and inspire. Roadcase Royale could scarcely found a better singer for the job.
The musical backing makes the aforementioned performance possible as well. This is a band that was likely meshing from the first day of full on rehearsal, but it goes beyond the longstanding connection between most of the musicians involved. These are players who listen to one another and want to aid the song rather than burnish their reputations.
Rock and roll, R&B, any musical art, is at its zenith when the agendas of those involved remains pure. That's undoubtedly the case here. The rhythm section does an understated job, excellent nonetheless, and the mix of acoustic and electric guitars gives the song even more gravity.
Roadcase Royale's Get Loud is a timely song and a once in a career debut for a band who will hopefully be around for some time to come, even if it's just part time.
[soundcloud url="https://soundcloud.com/roadcaseroyale/get-loud" params="" width=" 100%" height="166″ iframe="true"/]
If you enjoyed Get Loud, check out Roadcase Royale's official site by clicking here, give them a like on Facebook by clicking here & a follow on Twitter by clicking here.