Robots With Rayguns – Memories feat. Carl Gershon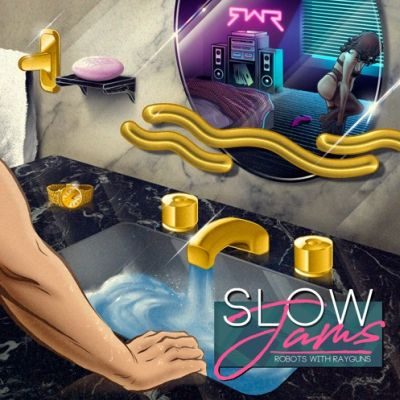 The New Wave '80s are back in a big way these days, what with the Stranger Things throwback TV show, an atmospheric Bladerunner sequel, and synths-mania in popular and underground music.  The only thing missing from the trend is hair sprayed-to-the-heavens hairdos, non-exercise-related legwarmers, and Rubik's Cube contests (and maybe that's a good thing!).
In the middle of this cultural revival comes Robots With Rayguns, a synthwave project from Phoenix, Arizona-based Lucas Patrick Smith.  Smith has already gained noticed over the past few years, at first shaping unofficial remixes of big name acts, then dropping his debut album, Electro Isn't Dead, in 2010.
After the super success of single Sugarbaby and remixes for and collaborations with other synth-pop acts, Smith is setting his laser to stun with the upcoming release of his fifth album, Slow Jams, on September 15th.
Slow Jams is a retro, synth-pop nod to the ubiquitous '80s synths diffusion that has graced many a song from that decade.   Standout track Memories features NYC-located singer-songwriter and multi-instrumentalist Carl Gershon.  It's an inspired collab between two '80s-loving musicians, at once a wink at and tribute to hit synths-driven ballads that dominated MTV and radio airwaves.
On Memories, an effusive haze of synths sparkles in the backdrop as Smith adds more modern layers of wobbly electro notes and female singer audio snips.  The subdued, but still vivid synths support Gershon's heartfelt and earnest vocal tone as he cries, "I feel the memories in the air tonight."
Memories is a sure-fire hit on its own merits, but also serves as a bright reminder of the musical treasures from another era.  Time to break out the Spandau Ballet…
[soundcloud url="https://soundcloud.com/freshasitgets/memoriesfeat-carl-gershon" params="" width=" 100%" height="166″ iframe="true"/]
If you enjoyed Memories, check out Robots With Rayguns' Bandcamp by clicking here. Give them a like on Facebook by clicking here, a follow on Instagram by clicking here & a follow on Twitter by clicking here.