S T F U – What We Want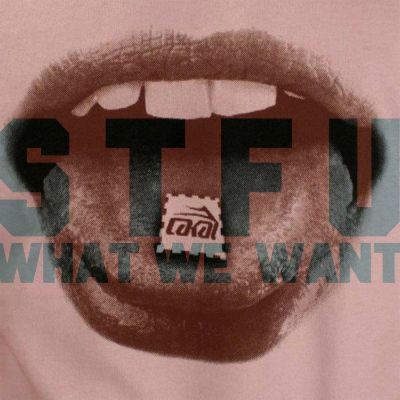 Preston Maddox of the Texas-based nightmare dream-rock band Bloody Knives also appears as one-half of the dystopian, self-described 'bleak-pop' duo S T F U; the other half being beats, bass, & electronics maestro Dean Garcia of influential 1990s shoegaze/dream-rock duo Curve with frontwoman Toni Halliday, and dream-pop duo SPC ECO with daughter Rose Berlin.
Maddox and Garcia have turned out quite an impressive collaborative album with What We Want, which will be available July 29th.  Where Maddox's Bloody Knives slays, S T F U sways with a spellbinding blend of ambient noir, trip-hop, and dance-pop sonics.  Some tracks unfold at a hypnotic pace, while others incorporate stirring EDM tempos.
The absorbing title track What We Want is of the former, exerting a black hole-like pull as it stalks along with mysterious menace.  Maddox's soporific vocals drift in a slow swirl as he chants the mantra, "We can't stop / It's what we want."  Extended pulses of buzzing, storm cloud distortion wind amid the sharp and brightly wavering electronic notes and weighty trip-hop beat.
[soundcloud url="https://soundcloud.com/stfu-hq/what-we-want" params="" width=" 100%" height="166″ iframe="true"/]
If you like What We Want, give S T F U a like on Facebook by clicking here.