Sara Lov – Trains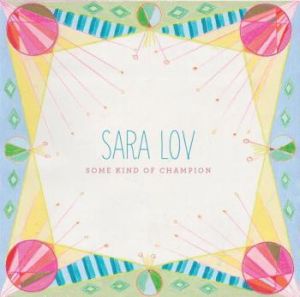 Los Angeles-located singer-songwriter Sara Lov, formerly of the piano-based duo Devics with recent Emmy-winner and acclaimed composer/pianist Dustin O'Halloran, bestows her 3rd album, Some Kind of Champion, on October 30th. It was produced by Sara and Zac Rae of Death Cab for Cutie and features collaborations with the talented artists Hauschka, Scott Leahy, Jonathan Price, and, yes, Dustin O'Halloran. Sara has just released the poignantly reflective, symphonic piano ballad Trains. It's accompanied by a meditative sea-themed video that's filled with slow-motion shots of luminescent underwater sea life like gelatinous jellyfish, gliding squid, and a tentacled octopus.
Sara and Dustin are both showcased on this track which swims deeply in Sara's delicate dewdrop vocal delivery that is matched by Dustin's light, but contemplative piano notes. There's a softly melancholic edge to Sara's emotions as she resignedly sighs "Love's a train… / I can't catch it." Sara's vocals rise to a wistful ache, and then to expressive, drawn out exclamations, as symphonic strings and a subtle drum beat sweep into the mix. The emotional and sonic unrest quiets down near the end of the song as Sara admits with a lamenting murmur "Never as good as you thought it would be / when you get there." against Dustin's gently restrained piano notes.
Check out the video below & if you like what you hear & see, give her a like on Facebook!