Shikobi – Here We Go Again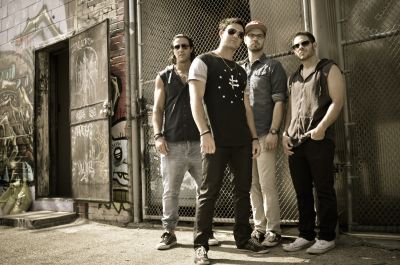 Los Angeles-based (by way of Australia) hard rock hybrid band Shikobi is making a big impact with its new single Here We Go Again.
The band has attracted a large fanbase and numerous accolades in its native Australia, including a choice #1spot on the Top 100 Countdown of the renowned Triple J Unearthed radio station.  Now worldwide adulation awaits as the band members (brothers Aaron and Luke Hession, bassist Marco Barrientos, and drummer Dylan Hayden) prepare to deliver their debut EP, Pull The Trigger, September 23rd.
Like the other tracks off the EP, lead single Here We Go Again hits hard 'n' fast, blending alternative rock with hip-hop and funk for an energetic and slammin' impact.  Bands like Linkin Park, the Red Hot Chili Peppers, and Rage Against The Machine spring to mind when listening to this tune.
While the drums beat out a dynamic tattoo, the bass line bounces like a rubber ball and distorted guitars grind in a gritty cycle.  Rapid-fire rap vocals run through the verses and then become emphatic shouts on the rousing chorus sections.  The brothers exclaim defiantly, "Not afraid to lose / Not afraid to fight." amid the sharp jags of guitar and pounded out drums.
[soundcloud url="https://soundcloud.com/shikobi/here-we-go-again" params="" width=" 100%" height="166″ iframe="true"/]
If you like Here We Go Again, make sure to check out Shikobi's official site by clicking here. Also give them a like on Facebook by clicking here & a follow on Twitter by clicking here.