Sasha's Bloc – Runaway Blues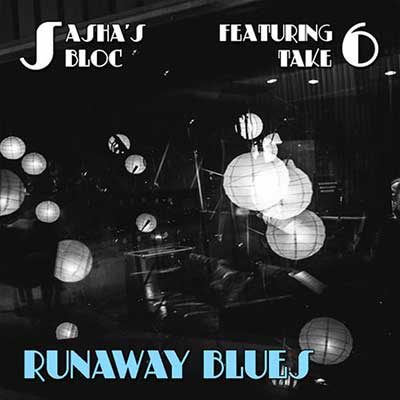 The Los Angeles based jazz collective Sasha's Bloc has released two full length album since their 2013 formation and has established a much deserved reputation as one of the nation's most preeminent purveyors of big band swing and jazz, but those labels scarcely begin to encompass their creative thrust.
This is a band, led by bassist Alexander Gershman, which draws from the vast history of American popular music. Gospel, blues, and various strains of jazz flavor their musical mix and, while some of these genres have fallen from mainstream favor, Sasha's Bloc never offers up these songs as beautiful butterflies pinned under glass.
Their latest single Runaway Blues builds on their impressive catalog and breathes like a work of living musical art thanks to the outstanding performances fueling the track and pitch perfect production that captures every nuance in the group's layered approach.
The lyrical content is wonderfully surprising. The text goes far beyond the elegant, simplified storytelling heard in the genre's commercial heyday and, instead, possesses a personal touch and well-turned eloquence that will speak to many.
Take 6 vocalist Alvin Chea proves himself a masterful interpreter of the material with his faultless voice and perfectly balanced mix of pinpoint phrasing and exquisitely modulated emotion.
Songs like Runaway Blues do not require wrenching theatrics or bucket of blood wails; instead, tracks like this beg for a lighter touch that Chea skillfully provides. The backing vocals and lush harmonies reinforcing the lead vocal further deepen the song's musicality without overshadowing Chea in any way.
Runaway Blues gains much from the slow build Sasha's Bloc surrounds the song with. The track is a process of introductions. It opens up with Chea's voice and soulful, gospel-tinged piano runs before other musicians fall in behind the duo.
It's a testament to the song's tight construction that they bring in a brass section and organ within a four minute running time without ever seeming rushed. The song's various movements unfold distinctly yet never seem mismatched or arbitrarily jammed together. This process of accretion, adding new elements to the sonic mix as the song plays on, gives the track tremendous and, most importantly, honest drama that sounds organic, never calculated.
The artistic marriage of Sasha's Bloc with the vocal excellence of Take 6 is a rousing success. Talent cannot singlehandedly redeem mediocrity; the reason why this works so spectacularly well isn't because the musical and vocal talents are so strong, but instead, it's because those aforementioned talents work so well in concert with the group's exceptional songwriting.
This is the complete package – Sasha's Bloc isn't merely some jazz-slanted virtuoso trip, but instead, it's a fully fledged artistic unit that excels on their own merits and works well in collaboration. Their latest single, Runaway Blues, is as good as it comes in this genre today and deserves the widest possible audiences.
[soundcloud url="https://soundcloud.com/sashasbloc/runawaybluesfttake6″ params="" width=" 100%" height="166″ iframe="true"/]
You can pick up Runaway Blues on iTunes by clicking here.
If you like Runaway Blues, make sure to give Sasha's Bloc a like on Facebook by clicking here & a follow on Twitter by clicking here.