Taylor Jules – Helicopter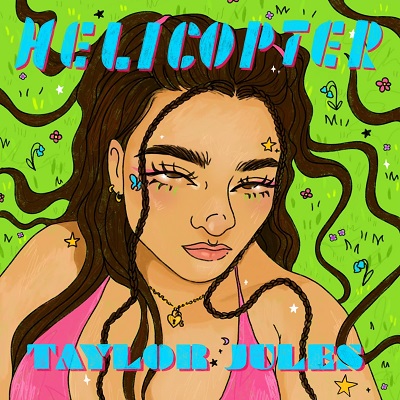 Singer/songwriter Taylor Jules, coming out of a crowded California scene this January, demonstrates a brilliant soft melodicism shaped into a worthwhile power ballad in her new single "Helicopter," and though there is no perfect in pop, this is a track that aspires to be more unique than it is puritanical by design.
"Helicopter" sees Jules tapping into her skill set as a vocalist like few of her contemporaries has dared to while dishing out some seriously evocative lyrics in the process. Sporting an elegant rhythm that slowly but surely traps us with its atmospheric glow, this is one pop song that doesn't borrow too much from the status quo in forging a memorable hook.
The lyrics in this piece are sharp, and delivered with a lot of swagger from Jules that doesn't quite flirt with arrogance; instead, this is a relaxed look from a player who seems to love the studio. She sounds comfortable in the booth here, laying down her verses against a focused musical backdrop that is gorgeous cosmetically but not defined by its surface-level content. Not a lot of pop singers put as much effort into their song craft as she does, but I suppose that's just one of the many reasons why her sound stands out right now.
"Helicopter" is built on a playful piano/bass arrangement that breaks up the tension of the lumbering tempo once we enter the powerhouse chorus rather brilliantly. There's so much emotion here, and a good chunk of it is emitted from these graceful harmonies that have an almost alternative rock-inspired tonality reimagined in a vibrant, modern pop setting. I like that there's some contrast between the percussive parts and the bassline; it sets the tone for the lyrics wonderfully and creates a catharsis in the chorus that simply wouldn't be there otherwise.
In the first part of the song, the harmony that Jules cultivates with her piano is so crisp and natural, and in this epically clean mix, it sounds just as potent as it would in a live setting. I haven't seen her on stage yet, but this track gives me a pretty good idea of what I could expect in an up-close performance. She's got an impressive presence that lends cinematic quality to every verse she sings in this single, and while there's no shortage of genuine talent making music in 2023, Jules is quite possibly the most unique to emerge from the Los Angeles underground since the start of this month.
A very exciting single from an artist with a lot of crossover appeal for fans of great music in general, "Helicopter" is a marvelous acquisition for music enthusiasts and casual pop listeners the same. With the buzz that she's been attracting lately, Taylor Jules is on the verge of taking her brand to the next level a lot quicker than some of her peers would be, and I don't get the impression that she plans on abandoning her current ideals once she attains a bigger spotlight. She's pop music's real article, and she proves as much in songs like this one.
If you enjoyed "Heliopter", visit Taylor's official website by clicking here.