Vili V – Tupelo Rhythm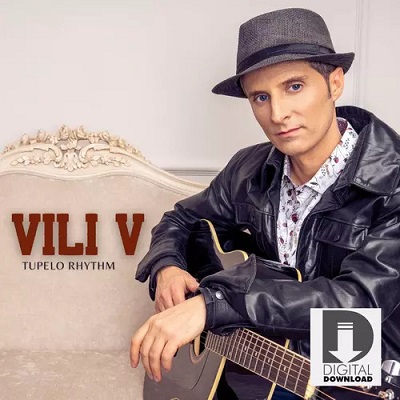 I hadn't heard Vili V before my first pass with his new single "Tupelo Rhythm". Consider me a believer from this point forward. The Hamilton, Canada singer, songwriter, and musician traffics in roots rock the way you should play it. It's self-referential, yes, calling on a bevy of Americana and blues references throughout both the lyrics and arrangement.
I don't hear it, however, as craven imitation. Instead, it sounds like a romping testament to the enduring power of the form that Vili V delivers with fresh, unbridled energy and a clear smile on his face. He culls this single from the upcoming album release In Daddy's Arms Again and, if this track shows the quality to come, I've stumbled across one of my favorite releases of 2023.
It's as honest as a heart attack. There's no unnecessary varnish falsifying Vili V's roots rock vision. I'll readily confess that the lyrics draw from a seeming hodgepodge of references cribbed from rock/blues mythos that Vili strings together into an episodic narrative. A closer listen, however, reveals impressive artistry at work. He isn't just regurgitating well-worn cliches. He's revamping and recasting them for a target audience that gets each reference, and it ultimately comes off as him attesting to their continued vitality.
I hear it as deceptively personal. A superficial take on "Tupelo Rhythm" will arrive at the idea that it's a tribute and little more. Instead, I hear it as open-hearted inspired testimony to the transformative effect that "rhythm" has exerted over Vili's life.
It's helped shaped him into the man behind the song. He's structuring his gratitude in the form of a musical composition and performance that shares with his listeners how his life wouldn't be the same without that music forming the soundtrack of his days.
The guitar work packs a lot of punch. It's never overstated, thankfully, and it's informed by the long years he's labored at his chosen avocation. The sound is pure rock and roll cut with a generous helping of blues without ever landing on your lap as a cookie cutter or paint by numbers tune. Each riff and lead line sparks with a soulful fire that draws us deeper into the song's web like moths to a flame.
His singing is the crowning touch for me. It brings the lyrics to vivid life, and he exerts enough muscle to compel the listener's attention. If you are receptive to this style of music like I am, Vili grabs you from the first line and doesn't let go until the song wraps. That's a true gift and he makes it sound easy.
Perhaps it is for him at this point; the great ones always make it sound like it's as natural as breathing. "Tupelo Rhythm" crackles and strides with relaxed confidence, heart by the truckload, and never runs on too long. It's one hell of a way to make the acquaintance of Vili V's work and I can promise you I'll be back for more. You will be as well.
If you enjoyed "Tupelo Rhythm", check out Vili V's official website by clicking here.