Vineet Singh Hukmani – Nine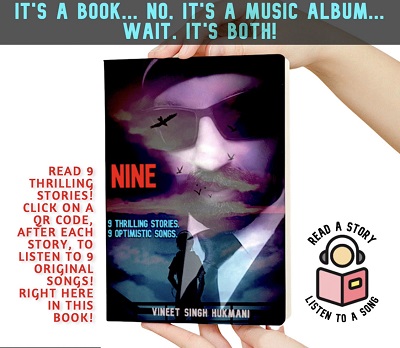 I can't recall a performer of any level experiencing the commercial success Vineet Singh Hukmani tasted in 2021. He virtually dominated European charts with nine number ones over that time and submitted several of those cuts for Grammy consideration. He'll get there one day. The Indian singer/songwriter and entrepreneur has extensive music world experience and a tight grip on what audiences on looking for.
It's what makes his decision to write and publish nine short stories to go along with each one of his hits all the more satisfying. You knew he'd go here. Everything about his songs, his videos for those past tracks, and the messages within those compositions say this is a performer who doesn't place any arbitrary limits on himself. He can go wherever he likes.
Packaging his hits with freshly composed short stories and highlighting his most recent single "Nine" makes for a lively time. "Nine" is glittering pop of the highest order musically and constructed for maximum effect. It doesn't strike a false note despite being obviously concocted, however, and the transitions from one passage to the next are especially memorable. The song's sound allows it a chance to physically engage listeners, and few will turn away from the track feeling let down by its percolating energy level.
The chorus is the song's best part and Vineet hits you with it straightaway. It's notable how he never lays it on too thick but, nevertheless, orchestrates the chorus in such a way that it packs plenty of punch. Vineet's voice works well with electronic instruments, and he adds minimal effects to his voice that layer it with a mild theatrical aura. It never sounds cheap, however. He has a firm hold on what he wants to accomplish and there are no missteps.
"Nine", like the rest of Vineet's songs, lends itself to expanding it in prose. The lyrics suggest a scenario instead of laying out every detail and leaving it open for listeners will make it more attractive for listeners. The added significance he gives the song through his vocal straddles the line between melodrama and convincing listeners without ever falling over onto the wrong side of the ledger. His voice is strong; it isn't technically trained but completely natural.
The video shows off his outstanding visual sense. He's released lyric videos before and this is another good example of the form, but the use of color and visual imagery are a cut above even his fine earlier videos. Fans who have followed Vineet's music will notice the sharp upward progress he's continued making in every area and there is no reason to expect it will slow.
"Nine" ranks among Vineet's best singles and is full of the playful and gritty alike. He brings a lot of different voices and perspectives to bear in his music. It's a likable release that doesn't try remaking the world but, nonetheless, demands to be taken seriously as a thoroughly polished work and part of a larger and significant whole