Wave 21 – Way Far Back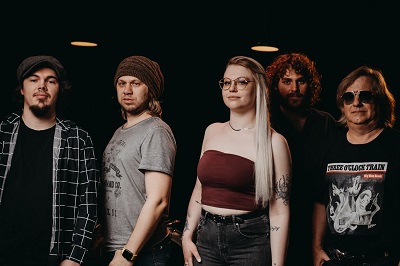 In the new music video for their 2021 song "Way Far Back," the easy rocking Wave 21 gather together for a simple performance of a song that is anything but black and white, proving without visual bombast that they know how to captivate an audience when they've got the spotlight to themselves. Although there's definitely a chills factor that comes with watching a group of musicians who share the same aesthetical values play to the model without skipping a beat, this is a track – much like the album Brace Yourself as a complete piece – that doesn't need much help developing a wow factor.
Lyrically, this is probably the most reflective song on Brace Yourself, but I wouldn't call it insular per se. There's a silent optimism bubbling behind the imagistic verses asking for the listener to consider its influence as much as we would the straightforward narrative as it's presented on the surface level, and the very fact that Wave 21 were able to create this kind of poetic multidimensionality puts them leaps and bounds above their closest competition in the North American underground today. They've got depth, and it isn't starting with a hook in their latest single.
Don't let the springy beat and pop-centric harmonies fool you; "Way Far Back" is definitely quite the brooding piece, and what it tells us about the future this band has ahead of itself is really worth checking out all by itself. Wave 21 are in an elite group of up and coming bands arriving from the north on the radar of critics and fans around the world at the moment, and while they're dedicated to repping their scene with the alternative rock values this piece was composed with, they're not bound to the artistic politics that would keep their peers from really making a statement.