Me&Mobi – Agglo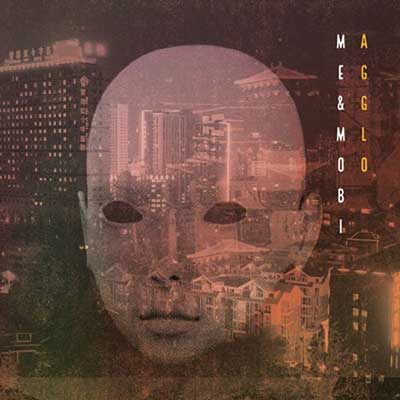 Me&Mobi are probably not the first thing that comes to mind when you hear the phrase "jazz trio." Actually, chances are you've never heard of them, nor their unique brand of what they tend to call post-jazz (a combo of space/psych-jazz and post-rock, at least to these ears). They are Philipp Schlotte on keyboards, Fred Bürki on drums, and Lisa Höppe on bass.
And yes, they can improvise their music at the drop of a hat, and they even went to school to study jazz – but the type of music that they play definitely doesn't sound like any jazz that you've ever heard. If anything, their music is a wild fusion of a myriad subgenres – from experimental beats and experimental electronica, all the way through to something that teeters between post-rock and post-punk.
All this musical melting pot sonics make their recent release, a full length called Agglo, really one heck of a trip. It sounds a lot like a soundtrack to some obscure underground classic, but since this movie doesn't exist, you get to sit in the director's chair.
Agglo came out last Friday on a Swiss jazz-centric record label called Prologue Records. And now you get to go on a guided tour through Me&Mobi's record with bass extraordinaire, the one and only Lisa Höppe, and also Philipp Schlotte, the man who makes all types of piano-related instruments sing.  Lisa describes the first three songs below, while Philipp chimes in about the last track listed:
"Ni!"
""Ni!" opens with a theme that could be from a Nintendo Gameboy midi soundtrack, with absurdly racing melodic motives and electronic drums. In fact, it becomes a humorous mixture of a Chinese restaurant-playlist and progressive rock à la Jethro Tull's "Songs from the Woods", with skipped and added beats. In the end? There is only Monty Python."
"Know your Explosives"
"A double bass figure over a chaotic sound mélange, it grows into a rock back-beat groove with a highly distorted synth melody (that seems to come from a '90s Eurodance party). A jazzy harmonic figure is leading into a free-jazz-esque, almost aggressive sphere, with surprising insertions. The title and the drive of the song are inspired by the riots that took place in Paris' suburbs in 2005, when frustrated teenagers, feeling alienated and without prospects, burned down public buildings and cars."
"Biopshere"
"A soundscape of undefinable components, remotely reminding of those of Icelandic band Sigur Rós. Reverb is swallowing, a wide space opening, unclear if scary or friendly. The picture of a wild forest, shrubbery [Hmmm, more Monty Python references – ed], nuclear garbage, strange plants. A refuge? A hiding place? Suddenly a bowed melody emerges out of the mist, at first shy and hesitant, but then with more and more confidence."
"In Rainbows We Trust"
How does a unicorn feel when it's on LSD for the first time? Hopefully like that. We don't trust in anything but rainbows. They are as spacey and unpredictable like the ending of the song."
Find out more about Me&Mobi by clicking here to visit their official website & give them a like on Facebook by clicking here.