Lights That Change – Starlight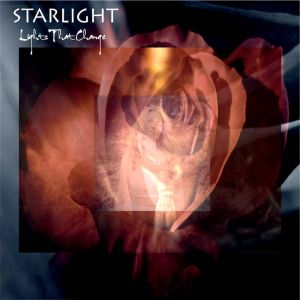 Welsh dream-pop/ethereal-wave band Lights That Change was founded in 2013 by producer Marc Joy (guitars, drum programming) and incorporates the airily blissful vocals of Mandy Clare and John Bryan on bass. The trio has released two previous EPs and upcoming debut album Byzantium will bow in early 2016 on Raphalite Records. The first single from the album, Voices, dropped this past May and follow-up song Starlight arrived October 30th. It features drum programming from Malcolm Holmes of OMD and was mastered by Ummagma.
With Lights That Change, Marc has created a music project where he produces dreamy soundscapes for Mandy to rest her delicately ethereal vocals, recalling such influential bands as Love Spirals Downwards and Autumn's Grey Solace. Starlight radiates softly and captivatingly with Cocteau Twins-like spangled guitar chime, a subdued bass line, and gentle sonic washes that lap against Mandy's contemplative vocal delivery as she pensively sings about "…the face of a stranger / A moment in time…" The song flows ever-forward with its subtly gradual pacing as Mandy attempts to capture and ruminate over an elusive memory.
The video for Starlight was directed by Jason Shappard and was a chance for the band to display a connection between the visuals and the sonics of the song. The meditative video opens with a tracking, panoramic landscape shot of the green countryside and then changes to a pine-filled forest. Mandy, dressed in white and lace, expresses herself through a slow motion, lost-in-trance dance, as the burnished sunlight attempts to pierce through the shadowy veil of pine branches.
Check out the video below and if you like what you hear & see, give them a like on Facebook!