ViseMènn – Begging You Please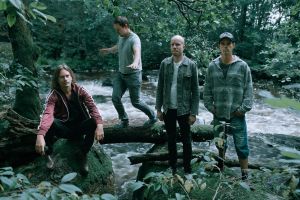 From the south of Norway comes an alternative rock band named ViseMènn that explores the shadowy depths and lofty highs of contemplative, but heavily atmospheric music. Helge Corneliussen (vocals, bass), Lars Olav Mangelrød (guitar, backing vocals), Sølve Eggebø (keyboards, backing vocals), and Magnar Lofthus (drums) formed ViseMènn in the mid-2000s and their latest single, Begging You Please, is their current apex as a band. The delicately potent single has been released in the format of a powerfully thought-provoking video directed by Canadian film industry professional Richard D. Leko.
Begging You Please starts off with a gentle drum beat, cymbal hits, and burning, but restrained guitar riffs. Helge sings in a sorrowful tone that "The moment I saw your face / I was lost and there's no escape." The chorus actually subdues the instrumental turmoil for a while with its gently stroked, fluid guitar lines, wandering keyboard notes, and measured drum strikes. Helge lifts his voice to an airily weeping register as he poignantly cries "I'm begging you please…" Near the song's end the sonics build up briefly in intensity as Hegle softly droops through his melancholic coos amid guitar, keyboards, and drums that all rise empathetically in tune with his emotionally distressed vocal delivery.
Matching and even heightening the anguish displayed in the song, the video shows a man and a woman, in different locations in the woods, encountering "themselves" – except that their doubles are in physical trouble and the man and the woman end up using CPR methods to try to revive them(selves). The double-take effect is subtle, but as the man and woman each work on trying to save themselves, the viewer will notice that the clothes on the (wo)man are the same as the one laying prostrate on the ground. Quite disquieting and profound in equal measure (and that's not even a recap of the whole video) and a visual story arc that brings out the depth of Begging You Please even more.
Check out the video below & if you like what you hear & see, give them a like on Facebook!