Air Waves (Live @ Shea Stadium 05-31-13)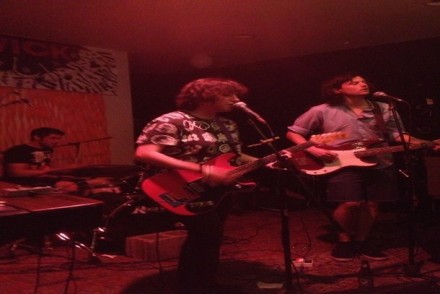 To say I was super excited for May 31st would be putting it mildly! This was the night I would finally get to see Air Waves again, a band that I absolutely fell in love with nearly a year earlier when they played at Union Pool on the last day of the 2012 Northside Festival. I did not know what to expect as I did not really know their material that well since I saw them only once & most of what they played was new material that was yet to be recorded. The one thing I did go into this night hoping for would be to hear them perform Lightning as I discovered the song & fell in love with it.
So I convinced one of my closest friends to come hang out with me at Shea Stadium to catch their set. Our timing was perfect as they were about to start their set when we walked in. I also could not ask for a better start as they kicked the festivities off with Lightning! After hearing an absolutely amazing rendition of it, anything else they would play would be icing on the cake for me.
I found myself absolutely in love with the 3rd song of their set which I would come to find out is called Shopplifting. I am assuming this is a yet to be recorded song as I could not find it anywhere. Hopefully it will be on their next release which I am anxiously awaiting as you could imagine. The set consisted of a nice mix of newer material & some from their fantastic 2010 album Dungeon Dots.
As each song was played, I could not help but wish for starters that their set would never end & also that they play a ton of shows the rest of the year as I could never get tired of seeing them. Quite honestly I could listen to the soothing yet somewhat mysteriously haunting voice of Nicole Schneit sing 24×7. The nice size crowd who was there probably felt the same way as the band just continued to bring the awesomeness higher & higher with each passing song.
Seriously if you get a chance to see them live, you need to just drop what you are doing & make sure to catch the wave!