Pow Wow! (Live @ Bar Matchless 06-14-13)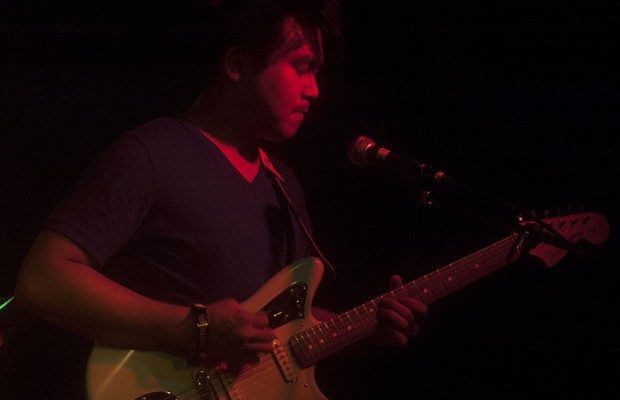 When I was planning my first day of shows to attend for Northside 2013, I decided to check out was going on at Bar Matchless. I've had amazing times there seeing great bands play over the years & figured if any place would be hopping with new talent to catch my eye, this would be it.
I browsed & saw they were hosting the Heart Bleeds Radio showcase. The first name that stuck out to me was Pow Wow! & once again my instincts paid off as I fell in love after checking out their debut album Don't Stop To Look on Bandcamp.
The band hit the stage shortly after I arrived. From the minute they started playing, I realized that their live show would be just as awesome as what little I got to hear of their album. The one thing I was hoping for was that they would play Shoot which I already designated as my favorite track from their album. They did not disappoint as they delivered a kick ass version of it!
I am 99.9% sure I got a set list so I could describe the songs. However I somehow misplaced it & can't recall everything that was played. However I can guarantee that this 5 piece band is a can't miss act. Their energy on the stage is contagious as they much remind me of one of my favorite bands Jackpot, Tiger in that respect. I must give props to lead guitarist Amanda Burdon who absolutely killed it. Female guitarists who kick ass will always be a weakness that I am damn proud of.
You know a set had to be amazing if I already am declaring them one of my favorite bands to see! I can guarantee you will be finding a lot more reviews of Pow Wow! in the near future as I am going to try & see them every time they play. This should be the case for each & every one of you as well & that is an order!