Small Reactions / Gold-Bears (Live @ Spike Hill 06-15-13)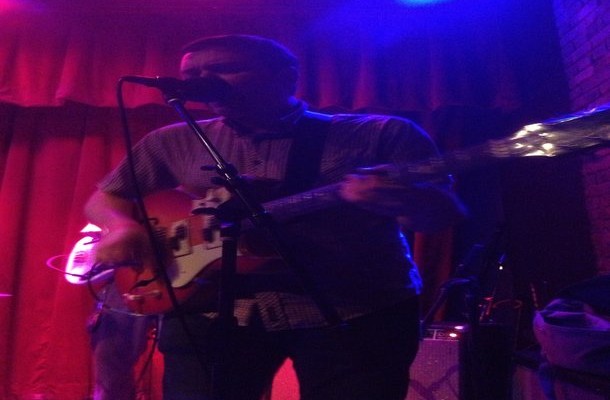 Leading up to the festival, I already knew that I would be stopping by Spike Hill on Saturday night for the NYC Popfest showcase as seeing the Gold-Bears was a must for me. I had checked them out leading up the festival & loved the song Something To Think About. I could not wait to hear it as I assumed I would not have a chance to do so anytime soon with them being based in Atlanta.
I make my way over to Spike Hill albeit a bit early as I decided to check out the opener Small Reactions. Admittedly I did not know what to expect as I did not get a chance to check them out in advance. Their set got off to a nice start with Shark Week as it set the tone for what was an awesome 6 song set.
My personal favorite songs of the set were the 3rd & 4th songs respectively. The third song was dedicated to their friend Joe & was titled Clay On A Cloud. This song definitely hit the spot & I really hope it gets recorded & released sometime in the near future. Hopefully the recorded version will contain that same raw emotion that the live version clearly has. The 4th song comes from their 2011 7″ & is titled Nerve Pop. This song has that perfect short but irresistibly catchy indie pop feel to it. Scotty's vocals really shined especially on these 2 songs as his voice reminds me of Thom Yorke so much.
The only complaint I had about their set is that I wish it was longer as I found myself really into it. Hopefully they will be back in NYC in the coming months as they are on my must see again list for sure!
Next up was the Gold-Bears who now had a lot to live up after the previous set. Things were not looking promising to me when I found out right beforehand that the song I wanted to hear would not be played. However I said I would remain objective & judge with no bias which is exactly what I did. Plus it would be hard not to match the energy from the previous set as the backing band for the Gold-Bears' Jimmy Underwood was Small Reactions.
The guys pounded through a 11 song set that just oozed a perfect blend of indie pop while highlighting Jimmy's punk influences. The opener of Yeah Tonight really kicked things off right & served as a perfect setup for Record Store, the infectious song from their 2011 album Are You Falling In Love?. Next up was All Those Years which you couldn't help but keep singing "ba ba bas".
The addiction to just how catchy they were grew with each passing song. By time all was said & done, if you were not in the mood to let loose & have a good time, you clearly had no pulse. Even though they did not play the song I wanted to hear, I can't deny that their set was beyond amazing. Like I mentioned earlier, it is a shame that they are not based in NYC as I would make it a point to see them as often as I could. However when they do come back to town, I definitely will be there & so should you!