Alternative Facts: A Shoegaze Resistance Compilation V/A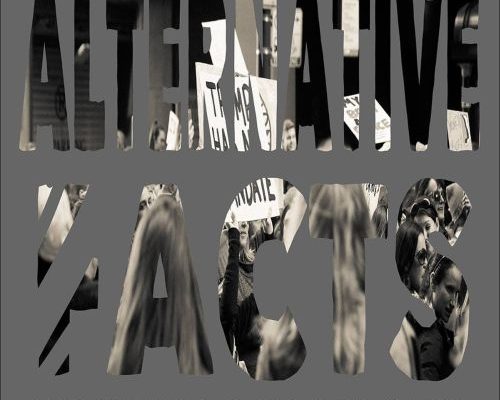 Cory Osborne of the bands Lightfoils and Panda Riot has gathered many leading luminaries of the current shoegaze/dream-pop scene for Alternative Facts, a compilation album that benefits #RESIST causes in the United States of America.
The artists involved with the album, from musicians to graphic designers, support civil rights, human rights, and women's issues.  All proceeds from the sale of Alternative Acts will be split evenly between Planned Parenthood and the American Civil Liberties Union.
Alternative Facts is being distributed via Greg Wilson's DKFM radio station, which this one time is serving as a record label.  The 18-track album is packed with standouts, so much so that it's hard to pick the highlights because each song shines so brightly.
Three songs have been made available before the release date of March 17th; the burnished glow of "Had I Known" (an exclusive track) by Indiana-based shoegaze/dream-pop band Whimsical, the ascendant guitars and longing vocals on "Touch the Sun" (remastered, with new vocals) by St. Paul, Minnesota's dream-pop/shoegaze act Angel Falls", and the transfixingly languorously soporific "Down" by Alaskan slow-core dream-pop band A Thousand Hours.
Other talented contributors include The Stargazer Lilies, Fawns of Love, Stellarscope, Chatham Rise, Brief Candles, Lazy Legs, Sheer, and AEVE CVE, a new side project from Preston Maddox of Bloody Knives.
Shoegaze music often gets dismissed for not being traditionally structured or not having catchy, sing-along hooks, but the intensity and propulsion of the thickly textured guitars and dynamics drums on these run of songs are hard to deny.  Whether sky-bound or inward-gazing, most compositions flow with an expansive, transporting vibe.  This is music to dream to and get lost in.
[soundcloud url="https://soundcloud.com/dkfm/brief-candles-alarm-fatigue-1″ params="" width=" 100%" height="166″ iframe="true"/]
If you enjoyed a preview from Alternative Facts, give DKFM a like on Facebook by clicking here, a follow on Twitter by clicking here & purchase the album on Bandcamp by clicking here.