Beach Day – Trip Trap Attack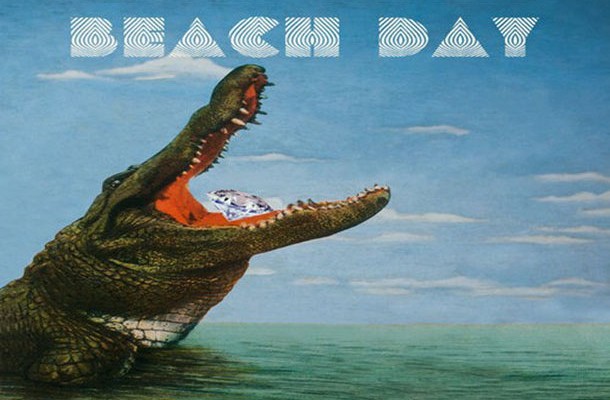 Summer officially started on June 21st & one thing is always a given, people love to have songs that make up a perfect summer soundtrack. This is where Beach Day comes in as their debut album Trip Trap Attack is filled with 11 such tracks.
When listening to the album, the initial thought that runs through your head is that the 3 piece band of singer-guitarist Kimmy Drake, bassist-singer Nat Smallish, and drummer Skyler Black were born to play music with one another as their talents fuse together perfectly. This is clear as day from the opening track Walking On The Streets which features Kimmy showcasing Ronnie Spector like vocals but with her own personal twist.
Boys is the second track & just hits you with this blast of energy & spunk from the opening seconds. Skyler's drumming & Nat's bass fuse together with Kimmy's melodies so smoothly that you can't help but get addicted. How could anyone deny her request when she repeats "All I want is boys"? The answer is no one could!
If I could only pick one song (please don't make me do it though!) from this album that screams a fun summer day, it would have to be Beach Day. The second Skyler's drums kick in, I could not help but be transformed to a hot summer day in the 1960's where I am with my closest friends drinking a milk shake on the beach! This is some feat considering I don't care for going to the beach & I was not born until the 80's so that is impressive. Nat's harmonies really put this song over the top. It was so hard to not keep this song on repeat like I did when I first heard it awhile back.
Stay is another song that I couldn't help but have on repeat. This song is hands down one of the catchiest you will hear all summer, hell all year! As I have mentioned in previous live show reviews of the band, this song reminds me so much of one of my favorite songs ever, Keep On Running by the Spencer Davis Group. The three of them sound as airtight on a track as could be humanly possible. The keyboard intro along with Skyler's pulsating drumming is reminiscent of Motown but with a harder punch to it. The interlude is what really sets this song apart as the three of them branch off on their own to showcase their chops while never losing the cohesiveness that you expect from them.
Am I The Only One & Seventeen are the two ballads that really let Kimmy showcase her vocal range. These two songs contain such beautiful melodies & vocals that really strike a chord with the listener. They definitely channel early Beach Boys work but with a touch more sadness. When I first sat down to listen to the album straight through, I literally played Am I The Only One over 50 times in a row. I just could not get enough of it.
Having We've Gotta Go close out the album was a great choice as besides the title being fitting, it was a perfect change of pace track from the previous sad ballad. Plus it fits their personality best as it is an upbeat number that they are known for if you had the privilege of seeing them live. Sadly when Kimmy ends the song by repeatedly singing "We've gotta go", all you want to do is beg her to stay forever!
Trip Trap Attack is an amazing album that will stand the test of time even though it hits you as just the perfect summer soundtrack. The album is filled with fun throughout so much so that you would think not to take them seriously. However that is the amazing thing about Beach Day because as much fun as they provide, the lyrics & musicianship clearly show why they are one of the most exciting bands in the world right now.
Beach Day is a band on the rise as these three have the heart, drive & desire that I have not seen from many artists in a long time. Just listening to them, you can tell they love what they do as the passion just oozes out. These three are musical soulmates that I hope make music forever as we could only be so lucky.
Tracklist:
Walking On The Streets
Boys
Beach Day
Stay
Seventeen
Trip Trap Attack
A Little Weird
Come Back To Me
Wasting All My Time
Am I The Only One
We've Gotta Go
Pick up their debut album Trip Trap Attack out now on Kanine Records by clicking here.