Bradford Loomis – Bravery and the Bell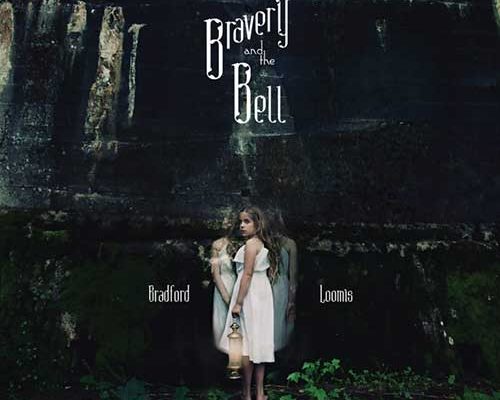 Bradford Loomis stands out from the field in the Americana scene. There are usually a handful of talents coming along in each generation and style who are torchbearers and innovators for longstanding artistic forms. Loomis is a talent both uniquely of this time and all time. It's an example of a modern artist looking deep into the past for a vehicle that best expresses his experiences, hopes, and dreams and possessing both the talent and discipline to make it his own.
Loomis' natural singing voice isn't the sandpaper shine he brings to many of his recordings – he exists, just as comfortably, in higher ranges and the new album makes use of his freewheeling skill. Bravery and the Bell runs a little over thirty minutes long, brief by modern standards, but it's difficult to describe this as an LP. His concise structures manage to incorporate the substance of albums twice as long and just as good.
The scenic, cinematic flavor of his songwriting is hard to ignore. It's a combination of his evocative lyrics, vocal delivery, and putting the songs together with ideal arrangements that accentuate their emotions in an appropriate way. Woe & Wind, based on its title alone, obviously aims in that direction and there's a sweep the deceptively simple music achieves that Loomis' voice confidently rides.
Changing Ghosts creates the same results. This is a song put together for the express purpose of generating tension and succeeds early on. It never takes quite a straight line to get there, but the lyrics paint a vivid picture as well to hook you in.
A quieter, more aurally introspective side emerges on the song In the Time of the Great Remembrance, but even those more overtly delicate textures can't restrain Loomis' spirit for long as the track ends on a memorably physical note.
Churning and highly rhythmic acoustic guitar kicks off The Swinging Bell and the fast pace coupled with imaginative lyrics gives Loomis another top notch vehicle to throw himself into. This is one of the album's better commercial numbers and does a better job than most of balancing Loomis' authenticity with a sound sure to have widespread appeal.
Drive You Home summons up the swing and soul of R&B while flawlessly merging it with Loomis' customary sound. Those moments come with each chorus when the arrangement opens up and steers away from its rhythm section approach into big chord voices and an uninhibited Loomis vocal.
Though the Days Are Fleeting is an acoustic tune recalling the album's earlier foray into this area, but this is a much more refined effort in that direction.
The album's final song, Across the Divide, is pure folk rock but it hits the mark. The track is slated as Bravery & the Bell's first single and its sentiments, warm vocal, and exceptional production are key reasons why. It puts a resounding punctuation point on a fine third solo release from this powerful singer/songwriter. Bradford Loomis' Bravery & the Bell has entertainment value galore and rare substance.
[soundcloud url="https://soundcloud.com/bradford-loomis/7-across-the-divide-mp3″ params="" width=" 100%" height="166″ iframe="true"/]
If you enjoyed a preview from Bravery and the Bell, check out Bradford's official website by clicking here. While you are it, give him a like on Facebook by clicking here & a follow on Twitter by clicking here.