Rogue Valley – Radiate/Dissolve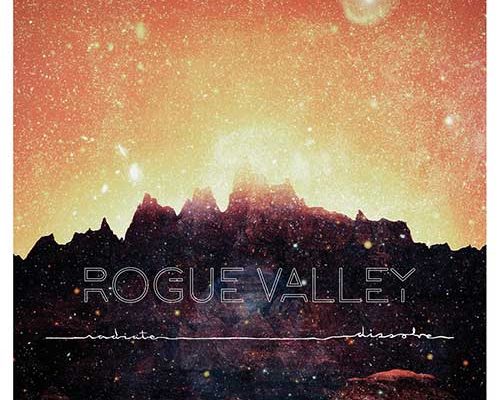 The release of Rogue Valley's fifth album, Radiate/Dissolve, may come to mark the pivotal moment when the Minnesota based five piece transitioned from indie darlings into mainstream powerhouses.
They've logged television and movie appearances for their material, shared stages with some of the country's biggest acts like Andrew Bird, Mason Jennings, and The Jayhawks while simultaneously racking up over eight million online plays spread out over three media platforms, Spotify, YouTube, and Soundcloud. They feature an unique configuration with two lead singers, one male and one female, but they never use it in a way that seems unduly gimmicky or otherwise cheap. The dozen songs on their latest album are substantive musical efforts that transcend label.
Experienced listeners will hear influences though. It isn't particular artists that Rogue Valley apes consciously or otherwise, but instead, the band's songwriting often brings a number of seemingly disparate elements under one tent.
Such stylistic marriages have often tragic results, but the album's opener The Brightest Stars shows Rogue Valley are expert at fitting square pegs into round holes. Glistening electronic textures collide with acoustic guitars and understated drumming without issue while the song's melodic aspects seem to keep it floating several inches above the ground at all times.
Pulse gives new listeners their first full introduction to the band's co-lead singer Linnea Mohn. Her voice is an excellent match for songwriter and vocal partner Chris Koza, but if anything, she's actually a much better fit for the material in key ways. Koza's voice is a truly flexible instrument, but Mohn's instrument outstrips him for sheer versatility. It's difficult to not be impressed by the obvious control she has over exploring her range.
Loom is a dizzying musical ride. There's nothing about the pace or tempo that will challenge listeners, but the impressive imaginative leap required to make this track hang together coherently surely propels it to one of Radiate/Dissolve's best moments. Rogue Valley mixes a variety of surprising influences together and there's nary a hint of stitching to be seen. Instead, Loom is a truly inspiring work bringing together traditionally opposed musical styles into perfect symmetry with each other.
Breathe is a much less cluttered, straight forward song, but no less of a surprise in some respects. Koza and second guitarist Peter Steve step forth with some scintillating blues guitar heroics, but they never lay it on too thick and weave their passages around a compelling backbeat. It's easily the album's rockiest moment.
Cold Windows has a busy electronic pulse underscoring more expansive keyboard textures while Koza puts his vocal down over the top. The guitar presence in the song is like a necklace of sound, individual notes strung together with just the right amount space between each and adding up to a beauty greater than its individual parts. The song's rave-up in the second half is unexpected twist and gives it a little extra to remember it for.
The orchestrated, lush pace of the album's penultimate song, Vainglory, returns the work to its first principals. After the comparatively raucous stomp of the guitar dominated middle, Rogue Valley seems to be downshifting into a much quieter gear at Radiate/Dissolve's end. The harmony vocals and sensitive phrasing are quite memorable. Rogue Valley have scored huge with their most recent release and the promise of tomorrow grows brighter with each release and closer to realization.
If you enjoyed the sample taste from Radiate/Dissolve, give Rogue Valley a like on Facebook by clicking here & a follow on Twitter by clicking here.