Sawtooth Brothers – One More Flight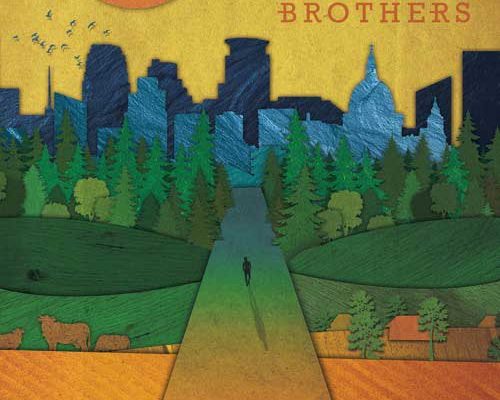 Few acts in modern Americana or country music can claim the sort of weird configuration that defines The Sawtooth Brothers. Since the dawn of the genre in the recorded era, Americana musical forms, excepting the blues, have fielded a wide array of "brother" acts – the Delmore Brothers, The Stanley Brothers, The Louvins, to name but a few. However, no act in recent or long-term memory has brought a four piece to bear compromising of two sets of brothers. It's a great selling point, but not merely a gimmick.
Instead, The Sawtooth Brothers conjure a very idiosyncratic and powerful chemistry where the totality of their individual influences coalesces into a memorable musical package. They prove themselves to be clever, imaginative songwriters not beholden to pull from a grab bag of hoary genre clichés. Instead, their unique perspective revitalizes formula and uses convention in inventive ways.
The opener on One More Flight, Another Cliché, amply demonstrates the four piece's songwriting talents. At first listen, Another Cliché may sound like a hodgepodge of tropes stuffed into a basic rock-flavored country outing, but a closer inspection reveals elevated sensibilities behind the composition. The vocal harmonies are, clearly, the Sawtooth Brothers' proverbial bread and butter, but the light and expert arranging touch clearly shown in this song is another reason for its success.
Country Road X bears some subtle songwriting similarities to the opener, but it's a primarily mandolin-driven tune. It bears the same distinctive and carefully applied vocal harmonies that enriched the opener so much and its relaxed, uptempo trot gives it just the right amount of energy and mood.
What's Her Name has a considerably more elegiac tone than the earlier songs thanks, in no small part, to its subject matter. Songs about lost love are as old as songs themselves, but Sawtooth Brothers deliver this song with a panache that overcomes any hints of formula.
On Top of the World brings the four piece much closer to outright rock and roll than earlier songs, but the acoustic base of their attack maintains the soft country overtones that define their songwriting.
Blame is a playful, slightly saucy blues number with ample and often understated humor. It pops along at a brisk pace and the Sawtooth Brothers fill its lyrical content with a number of familiar archetypes, but, ultimately, it comes across as quite fresh thanks to the shimmering personalities
Don't Go It Alone relies on a circular, sharply defined acoustic riff to carry it musically, but the dominant element here is the Sawtooth Brothers' best example yet of their expert harmony singing. The multi-part vocals give an added lift to the song that simply isn't possibly instrumentally. The song's lyrical message is, likewise, a welcome and positive bit of gravity on an album that spends much of its time not pushing the envelope much in that particular area.
The album's final song, Take Me Away, closes One More Flight with a return to first principles. All of the hints of pseudo rock posturing scattered throughout the songwriting are absent here and, instead, the Sawtooth Brothers bring down a final curtain with the aid of another mandolin propelled outing with charming lyrics and a beautifully tasteful arrangement.
Charm and taste are both in abundant supply on One More Flight – but the Sawtooth Brothers are highly skilled writers and musicians and, as the album demonstrates, have ample skill to burn.
9 out of 10 stars
[soundcloud url="https://soundcloud.com/sawtoothbrothers/one-more-flight" params="" width=" 100%" height="166″ iframe="true"/]
If you enjoyed a sample of One More Flight, give the Sawtooth Brothers a like on Facebook by clicking here & a follow on Twitter by clicking here.