Smomid – Cyber Solstice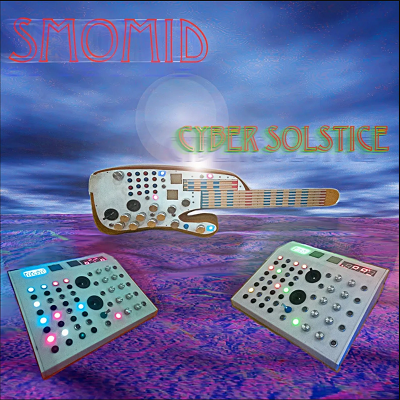 Nick Demopoulos could have played it safe. Cyber Solstice could have been a nine track collection of straight ahead techno tracks with a bright keyboard and synthesizer-fueled bounce. Predictable, but intelligent and possessing widespread audience appeal. He chose another direction with his project Smomid, however, and now several releases into a growing discography, the latest collection Cyber Solstice plays like the fullest realization yet of the project's promise.
FACEBOOK: https://www.facebook.com/Smomid
It's instrumental fare but, even at its wildest, there's almost always an overarching structure guiding each of Cyber Solstice's songs. Smomid doesn't obey any preconceived notion about how those structures should be developed, however, and the opener "Rhythms of Lyfe" illustrates it well. It delivers everything most listeners crave from fare like this, hard techno with a deep DIY aesthetic, but there's a slowly evolving shape to the opener that reveals itself by its conclusion. Some of the sonic effects are particularly attention-grabbing.
The sort of understanding of dynamics you associate with rock music and even some of its hard-hitting punch can be heard in tracks such as "Harmonic Wave Interference". The first quarter of the track snaps off, however, into a hardcore electronic jazz fusion tightrope walk that's thrilling to hear. The fearlessness makes it a fascinating listen and it isn't a losing gamble for Demopoulos in any way. Some of that same focus on contrasting dynamics powers the track "Inceptionism—". It puts its head down and charges straight-ahead in a manner reminiscent of "Harmonic Wave Interference", but there's much more of a darker tinge gnawing around the song's edges. Smomid's music, even in stripped-down mode, has intensity other artists working in this style lack.
Some listeners may hear a determinantal sameness settling in during the album's midway point as "Digital Stimulants" treads superficially similar ground. Deeper listeners, however, will hear another example of Smomid's melodic skill. The yawning recurring bass pulse in the center of "Cr8tive De$truction" is like hearing a slow-motion implosion captured in a loop and a potpourri of electronic beats and other garnish shimmers around it like a digitized mist. It isn't boisterous, but oddly foreboding.
APPLE MUSIC: https://music.apple.com/us/album/cyber-solstice/1630558684
"Remember to Remember" stretches Demopoulos' songwriting vision further than elsewhere in the collection. The restraint and artistic control defining this extended piece will stand out for even casual listeners; you will be sure that Smomid knows where they're going, and it encourages you to keep listening. "Resonance" is a sort of musical coda for the release and the album's layout supports this. It doesn't attempt to cover the same amount of ground either and puts a well-considered exclamation point on Cyber Solstice.
It's one of 2022's most self-conscious yet successful efforts. Ambition comes off of every track, standalone efforts well worth the listeners' time, and Cyber Solstice stands as Smomid's best work when taken as a whole. If an artist's chief mandate is to continually challenge themselves, Nick Demopoulos has done that and even more. It's going to be really interesting to see where he takes the project from here.