Stefanie Keys – Open Road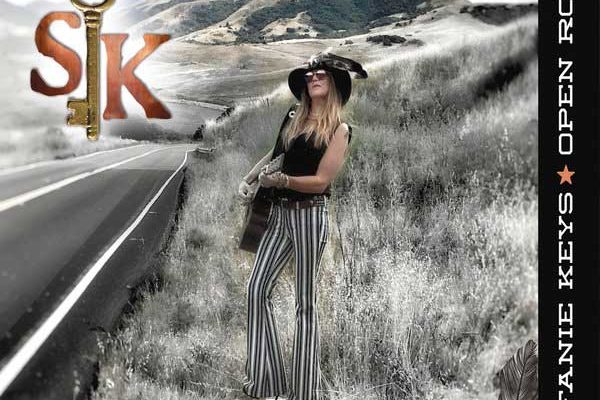 The third full length album from Stefanie Keys, Open Road, is her most fully realized effort yet. Keys is not merely a remarkable singer; her talents as a songwriter and lyricist have reached their fullest flowering yet on this ten song collection. She is joined by a crack assemblage of musicians who help her realize the potential of this material without ever once seeking the spotlight out for their own considerable talents.
While Keys is often labeled as working in the Americana or "roots rock" genres, she is something far simpler and much more elegant – simply a singer/songwriter who doesn't limit herself to one relatively narrow musical style. Her avowed influences make this much clear – when you can speak as convincingly about the role bluegrass, Janis Joplin, and Carole King played in shaping your own musical ambitions, you aren't a performing artist particularly concerned with fitting into the pigeon holes the uncomprehending want you to occupy.
She boldly starts the album off with its title song. There's a lot of familiar imagery in the lyrics for longtime music devotees, but Keys is adept at pouring old wine into new bottles and spiking it with the unique flavor of her own experience and personality. She does so through the power and suggestiveness of her vocals.
When you hear Keys singing about highways, she has a way with the phrasing enabling her more imaginative listeners to see those same highways in their mind's eye. The band delivers quite a tasteful backing performance that isn't careful and bloodless, but actually rings out with the same artfully shaped passion coming from Keys' voice and lyrical content.
No Tomorrow has a positive, youthful message that never dates. While many of us have heard similar advice before, Keys' take on this familiar theme is infused with remarkable urgency. There isn't a second to waste pivoting to this position and her collaborators are clearly inspired by the lively fire in her vocals.
City Life is one of the album's most artfully handled tunes. It's nominally a blues, but Keys and her collaborators handle it with style rather than giving us some pseudo-Delta influenced tribute to the genre's distant past. This is urban blues cut with a fair amount of R&B soul and elicits Keys' sultriest vocal so far.
Hey is one of the album's more interesting later tracks for the moody atmospherics it conjures, but it makes one curious decision along the way. The light effects applied to Keys' vocal are somewhat distracting and don't really add much to the performance except that distraction. It isn't enough to sabotage the track, thankfully, but it is an unusual move that curtails the song's chance to reach its fullest possible audience.
The grittiest moment on the album comes with the intense stomper Highway To Your Soul. After a brief and misleading guitar intro, the song slips into a slamming arrangement that makes great use of space, but also sets a starkly lit stage from which Keys can deliver one of the album's most impassioned vocals. It's a great high point near the end of a tremendous album. There isn't any filler on Open Road and Keys excels like never before on the album's high spots.
9 out of 10 stars
If you enjoyed a preview of Stefanie Keys' Open Road, give her a like on Facebook by clicking here & a follow on Twitter by clicking here.