The Great Escape – Universe In Bloom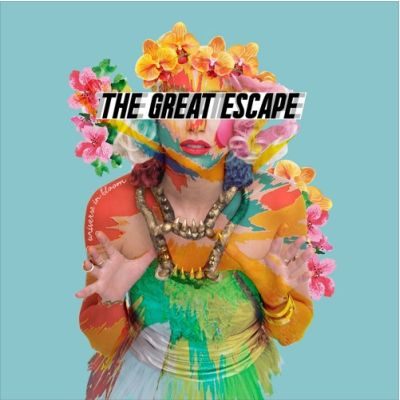 Venice, California neo-retro revivalists and reinterpreters The Great Escape released its bright, dynamic, and polished second album Universe In Bloom this past summer.  The hybrid-genre LP blends modern alternative rock with traditional stylings from the past like soul, jazz, funk, and vintage pop.
Horns and organ mix with thumping drum beats and electric guitars (among other instruments), topped off with sweetly tart vocals from Ingrid Andersson.  She's joined by Kristian Nord on drums and bass and Malte Hagemeister on guitar.  The trio bursts out with vivid, rich sonics that once in a while slide into gentle reflection.
Album-opener Let Me Go Wild spins like a retro-soul kaleidoscope with Andersson's breathy, but sharp exclamations rising into a squeak by the end of the song.  Sunshine-'60s Good Day charms with its pleasantly skipping drum beat and swingin' horn rumble.  Smoky and tooting horns, psychedelic organ swirl, gritty guitar jags, and a loping pace pushes I Can't Resist along.  Andersson sing-talks with a raspy, jazz-inflected flow, enthusiastically belting out lyrics like, "I knock down walls / because I can't resist."
Acoustic folk number All You Got is Gold references the album title, springtime, and the garden – all sources of natural renewal.  A warmly emotive Andersson sings pensively, "Let us go where the wild things go / Let us go where time runs slow." amid subdued organ press, low-tone strings, and picked acoustic guitar.  As the song progresses, it expands with contemplative piano notes, tambourine jingle, and dawning synths.
Better Together struts by with a high-stepping drum beat, thick and bleating horns, and thumbed bass line.  A perky Andersson channels The Jackson 5 in her singing style, piping up at times like a young Michael Jackson.  Vibrant, but bittersweet soul ballad The World Ain't What It Used To Be, which sounds like it was meant for the stage, marches with a staccato pace.  Andersson proclaims passionately, "You gotta break out / There's no safe and sound anymore."
Crisp finger clicks and zippy, fat horns mix with harmonica and acoustic guitar strum on The Ticket.  Andresson's vocals rise and fall throughout the tune, sometimes turning into a brisk and quick sing-talking as she spits out the lyrics, "Take the ticket if you got / just what it takes."  She adds some peppy Cyndi Lauper/Gwen Stefani-like wordless burbling here and there that adds even more spirit to the song.  Harmonica squawks, ticking percussion, and background male vocals bolster '50s throwback and album-ender Bad Repuation, as Andersson sings alluringly, "I've got a bad reputation / and I don't care."
Contrary to that statement, Universe In Bloom is all good, filled with retro-rock, soul, and pop chops, jazzy, soulful vocals, and high-energy to ruminative music.
[soundcloud url="https://soundcloud.com/wearethegreatescape/sets/universe-in-bloom-album" params="" width=" 100%" height="166″ iframe="true"/]
If you enjoyed a preview from The Great Escape's Universe In Bloom, check out their official website by clicking here. Give them a like on Facebook by clicking here & a follow on Twitter by clicking here.