Spacebear – Straight For The Sun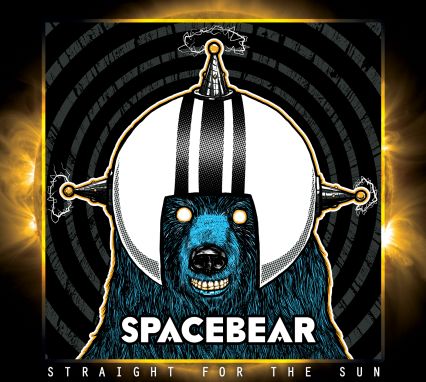 Bands work best when they organically form. Rock history is littered with the bloated recordings of so-called super groups proving, in the end, to be nothing more than cynical musical gimmicks. There's more though. Bands work best when they form organically and are hungry to be heard. It's apparent, from the first note on Spacebear's debut Straight For The Sun, that this Texas-based power trio wants to be heard.
Vocalist and guitarist Kyle Lanter initially joined forces with drummer Luis Fermin in early 2014, but they soon fleshed out the lineup with bassist Jamie Ferrini and have established a quick reputation as one of the region's most promising live acts. Their first release will likewise flesh out their growing reputation as it's a wicked creative seven song collection seemingly unafraid to learn new tricks or turn blind corners.
They have established unassailable chemistry in an astonishingly short amount of time. Without You testifies to that statement with its whiplash tight guitar rave ups and eye-popping precision. This isn't sterilized alternative rock lacking swing however. The rhythm section of Fermin and Ferrini are a rollicking tandem that seems to push Lanter harder and harder as the song progresses. While no listener will mistake this for any sort of technically complex music, it overflows with one essential ingredient of greatness – Spacebear makes it sound effortless.
Blue shares that relaxed confidence. In addition, the lyrical content deepens considerably over the otherwise fine words in the opener. It's a little surprising to hear such fully-formed, plain spoken eloquence in new rock music these days and it never feels heavy-handed despite the social relevance. Lanter's guitar remains at the EP's sonic center, but there's no virtuoso trips bogging the band down.
Unlike many bands of their ilk, Spacebear isn't afraid to shift focus away from the guitar. Lanter's six string serves a purely ornamental purpose on Echoes of Sunday as its otherwise propelled by gliding piano lines and a stirring vocal. This is probably the EP's strongest melodic moment and it has a stronger poetic quality in the songwriting than heard elsewhere.
Electric Sheep has a brittle, urgent sound and bubbling bass that plays strong counterpoint against the guitar. Some might think the band oversimplifies things too much here when compared to the EP's other songs, but it's just a different color and has tense, punk rock-like energy.
Hope's Gone arguably gives listeners the band's best effort at combining muscular rock moves, adult subject matter, and mainstream appeal. The breezy guitars and crisp drumming make it ideal for a widespread audience.
Straight For The Sun wraps with Constellation. Spacebear reaches higher here without ever driving off a pretentious cliff and combines multiple strains of their approach with surprising new twists. The lyric and vocal alike easily rank among the EP's best. This, likewise, ranks among the finest debuts in recent memory.
Just when one suspects that there's nothing new under the sun, new songs come along that prove you've misunderstood things the entire time. We never need the wheel reinvented. Instead, Spacebear comes along and pours old wine into new bottles with a rare blend of enthusiasm, skill, and personality.
8 out of 10 stars
Make sure to give them a like on Facebook by clicking here & a follow on Twitter by clicking here. Also make sure to check out their Youtube channel by clicking here.