Captiva – Self Titled EP Feature & Interview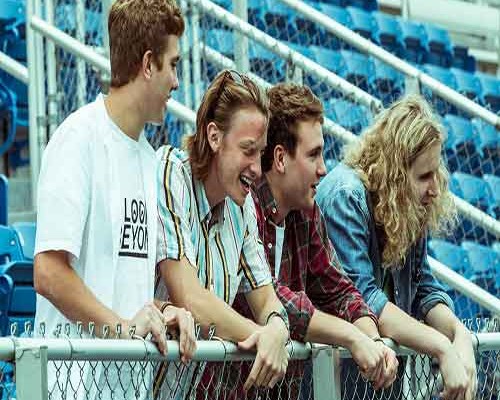 Captiva is a fun, young & engaging band sending out all sorts of awesome & dare I say "captivating" music & energy from Kansas City, Missouri to ears all over the globe.
The foursome which is made up of Jackson Ries (vocals , guitar, aux percussion), Patrick McQuaid (lead guitar, vocals), Nick Riffle (bass) & Hank Wiedel (drums) recently released their self-titled debut EP a couple of weeks ago on December 15th.
Over the last few weeks, I have been enjoying their EP so much that I had to catch up with the band to find out more about them so enjoy getting to know Captiva!
IndieMusicReview: I read that you guys met in detention which is quite the place to meet, what did you do to earn it & which one was the most responsible for landing there?
Hank: Patrick was in detention for being late to class, and I was there for an untucked shirt (or maybe it was the other way around?). Who was most responsible for us being there? THE MAN.
IndieMusicReview: How long did it take to come up with the band name & does it have any deep or specific meaning to you?
Patrick: We decided one day to just name the band 'Captiva' because it just seemed so fitting for our style of music, and then we discovered the meaning down the road when we realized that it was indicative of the "beach" aspect of the music.
IndieMusicReview: Is the Kansas City music scene thriving for indie artists & where do you see it going in the next 5 years?
Nick: Realistically, the attention towards the scene will grow constantly for the next few years, but it would be nice to see a stronger display of camaraderie between musicians in-and-around the area.
IndieMusicReview: Being a relatively young band, how was your SXSW experience?
Jackson: Fucking dope.
Nick: It was pretty dope.
Hank: Yeah…dope.
Patrick: Super dope.
IndieMusicReview: Who are your musical influences?
Captiva: We take influence from so many different artists, which helps us diversify our sound. My Morning Jacket, Fleet Foxes, Twenty One Pilots, The Grateful Dead, Mac DeMarco, Vacationer…hell, we've probably even taken some influence from Slim Jesus.
IndieMusicReview: What is your favorite song on the debut EP & what is the specific story behind it?
Captiva: The collective opinion on this one is probably 'Sometimes'. That track truly conveys our varied musical backgrounds…and that we appreciate drugs to their fullest capacity. Psychedelics, uppers, downers, women, alcohol, women. It's about lost love and the trials/tribulations that relationships entail, translated in an acid-based metaphorical mind-fuck.
IndieMusicReview: What are your plans for 2016?
Captiva: We're touring with The Expendables in Colorado this January for SnoDaze Ski Trips in Copper Mountain, Breckenridge, and Steamboat Springs. Other than that, we're spending a lot of time on planning, practicing, writing, and raging. Join us.
IndieMusicReview: Any last words for your current & future fans?
Captiva: #StayBuzzed #StayInSchool #ButMostlyStayBuzzed … #ActuallyAlwaysStayBuzzed
As a special bonus, check out their EP below:
[soundcloud url="https://soundcloud.com/captiva-music/sets/debut-ep-1″ params="" width=" 100%" height="166″ iframe="true"/]
For those Spotify lovers out there, you were not forgotten so make sure to add Captiva's EP to your playlists by clicking here.
If you like what you hear (and I am sure you will!), make sure to like them on Facebook & follow them on Twitter.